Marketers - Withdrawing A Pre-Invite Offer
If you have already sent an offer to a creator by accident, you have the option to withdraw right after sending it.
Please note: Please keep in mind that if you withdraw an offer, it will decline and remove the offer from your project.
Locate the offer that you would like to withdraw from the offers side panel on the right hand side. From there, click the icon.
A dropdown will appear. From the dropdown select Withdraw.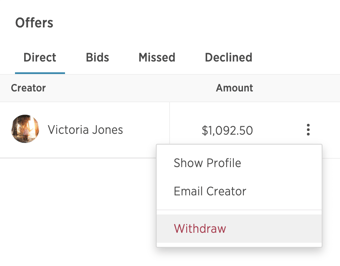 A pop-up will appear confirming that you would like to withdraw the offer to this creator. You may cancel or select Yes, Withdraw Offer.