After you have begun to look for Creators within Unity Search, you will notice that search results will begin to populate for you to review. Your search results will provide you with a brief snippet of information about an Influencer, which you can always view in even more detail by clicking their name to see their Flyout Profile or their Full Profile. To better understand what you see at first glance, let's walk through a search result below!

Promotable Icon
If you see a green Promotable Icon next to an Influencer's name, then that means the Influencer has connected either their Facebook, their Instagram, or both to their account in the system, and also set up authorization within their social media settings to be eligible for Promoted Posts.
Matches
Matches are provided by the system when a keyword or set of keywords is entered in the search bar (they will not display if no keyword is used when searching). To see search word matches, simply hover your mouse over the word matches. In the example below, you can see that the keyword "cat" was searched for, as well as the Influencer's name.
Within Matches, you will notice a section titled Discovered Tags. These are words from your keyword search that frequently appear in the Creator's content. The system finds Discovered Tags by programmatically searching the Creator's actively connected social media Connections.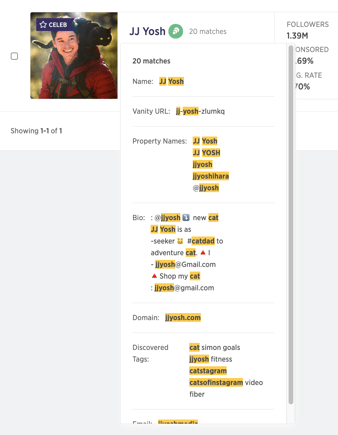 Followers, Sponsored, & Engagement Rate
The Follower number listed is the total number of followers for all of the Influencers active social media Connections.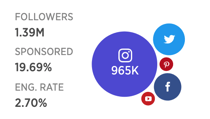 If you hover your mouse over the bubble icon for a particular social media Connection, you can view the individual follower count for each Connection.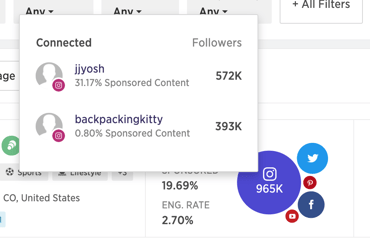 The Sponsored percentage you see listed is the total across all of the Influencer's active social media Connections.
If you hover your mouse over the bubble icons for each Connection, you can view the individual Sponsored Content rates for each Connection.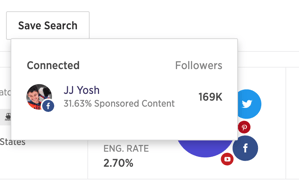 The Engagement Rate percentage you see listed is calculated by total engagements / total reach * 100. The main rate shown is a combination of all of the social media Connections the Influencer has connected to their account. If you hover your mouse over this number, you will be able to see a breakdown of each Connection's Engagement rate (if available).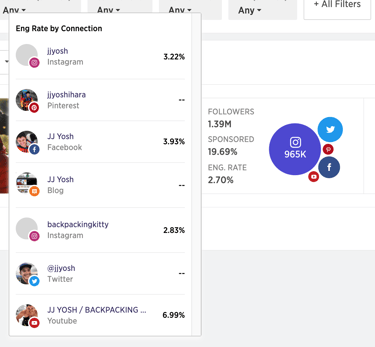 Sample Content
The content shown is a sampling from the Creator's work. If you select the arrows, you can view the Creator's content and make sure they are a fit for your Campaign.

Rates
Your subscription level will determine if you can see the Rate range a Creator has listed for their social media Connections. If you have a Unity Suite subscription, you will see a Creator's Rate range listed on the right hand side in your search results. This is very helpful information to have on hand when budgeting for your Campaign! But of course you are always able to negotiate with Creators, and if you are unsure of where to start, check out our guide on Best Practices for Compensating Influencers.