Once a Creator has submitted their content, you will be able to send them revisions directly in the platform. If you would like to download the Creator's content for review by an external team please see this article.
1. Locate the Project that has bids under the Ready for Review tab and select the number under this tab.

2. From here you will be taken to the Draft Review tab, where you can view the Creator's submitted content. On this tab you will also be able to view the Cost, Due Date, Publish Date, and Requirements.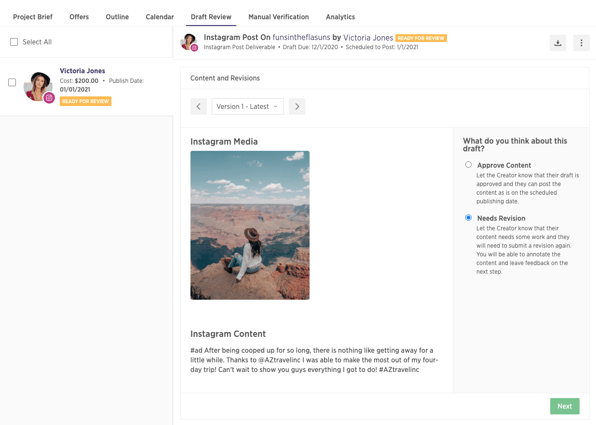 3. When reviewing the Creator's content you can toggle between the Content and your requirements to make sure everything has been included in their post. If you would like them to make changes, select the

icon and then click Revise Content.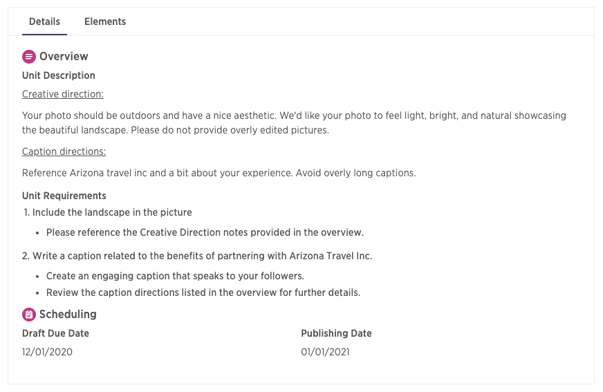 4. A pop-up will appear where you can suggest your revisions to the Creator. Enter your revisions in the box provided and click Request Revision.
Please note: If the Creator submitted several photos and you would like them to only post one or some of them, this is where you would want to ask them to change that and resend to you for approval with only the chosen photo(s).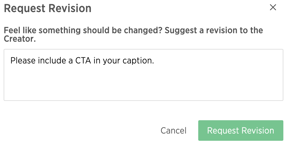 5. The offer will move to the Waiting For Revision state under your Outline tab.