In the system, your posts are programmatically checked by our verification process. Verification is a process through which the platform checks to make sure everything you have posted matches what was approved by the Marketer within the system. If your post does not pass verification, you will have the option to request that the Marketer manually verify your post.
Posts may not pass verification for a number of reasons, the most common being an issue with the Required Elements in your live post. Many times a Marketer will approve these changes off platform after the content has already been approved in the system. In these instances, you will need to request a manual verification of your live link.
1. When your post has been approved, it will appear on your dashboard as Ready To Publish. Click on the Project Name to be taken to your content.

2. Once inside your Offer select, Publish Content.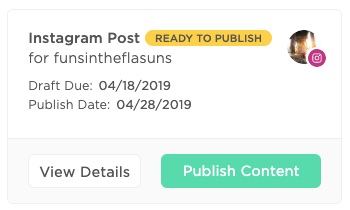 3. On the Publish Content page, you will follow the same process as publishing your content and submitting your live URL. Once your content is live, you will need to submit your live URL back into the system. To do this, paste the copied URL in the Verification URL box, and click Submit URL.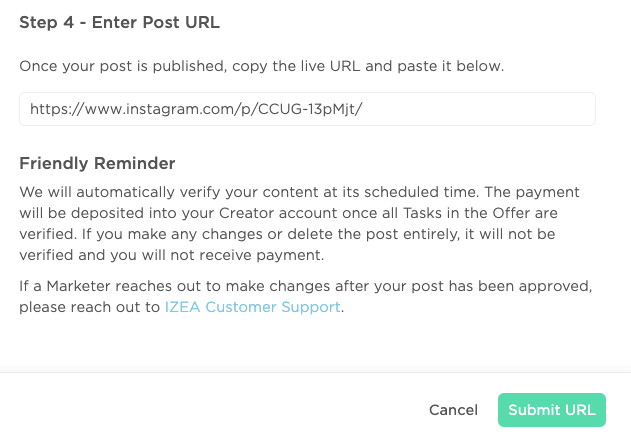 4. From here, you will see the reasons that your post did not pass our verification process. In this example the Creator's post is missing the required hashtag and @mention. This Creator, however, has been told off platform by the Marketer that they are "ok" to not include these elements. This Creator can now request to have their post manually verified by selecting Request Manual Verification.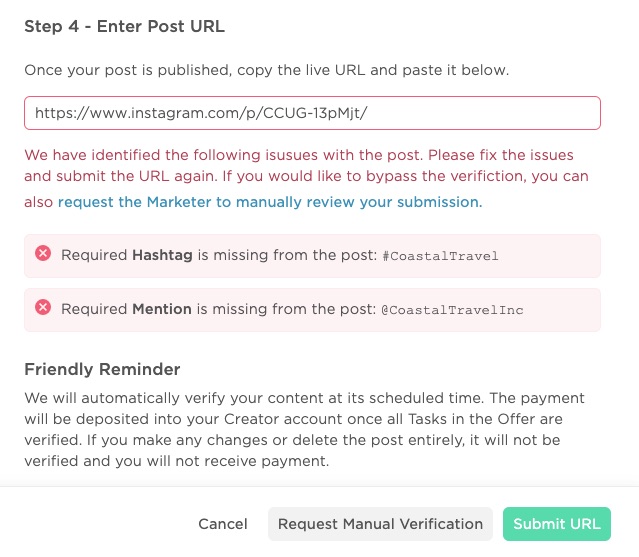 5. A pop-up will appear asking you for the reason for your Manual Verification request. Enter a brief note to the Marketer, check the Project requirements confirmation box and then select, Request Manual Verification.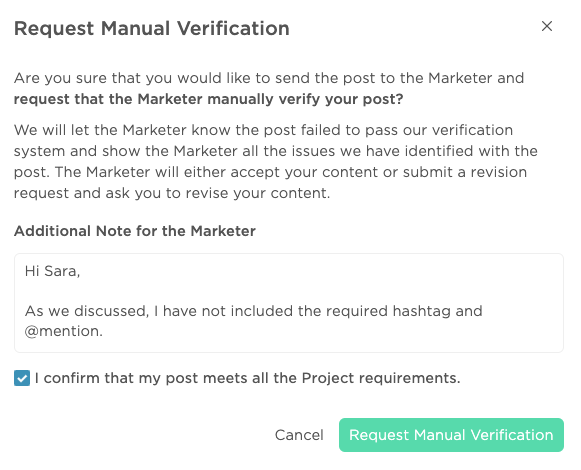 6. Once submitted your post will show as Pending Verification. The Marketer will then have the option to approve your post or request a revision.
Please note: If you have other Tasks that are dependent on this Task publishing, you will have to wait for the Marketer to approve your post before publishing your other live links.