Now that your bid has been approved (or you have accepted a direct offer), it's time to create your draft content. This article will walk you through the process of submitting draft content for a Twitter post in the system. Please be sure to follow all steps in order below.
Please note: This workflow must be completed on an up-to-date desktop or laptop computer browser. System workflow cannot be completed on mobile web or apps.
From your dashboard, click the offer that is ready to have content created (it will be listed as create content) by selecting the project name.

Locate the Twitter Post Task and click the green create content button.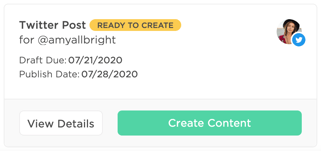 You will be taken to the content creation page, where you will be able to view the draft due date, the content publish date, and all of the requirements for your post on the right hand side of your screen.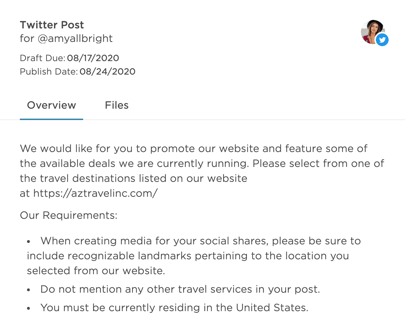 The first step in creating your draft content is to add the media you would like to use. To do this, you may drag or drop your media or click the + icon in the media box. From here you will be able to select a photo or video from your desktop to use in your post.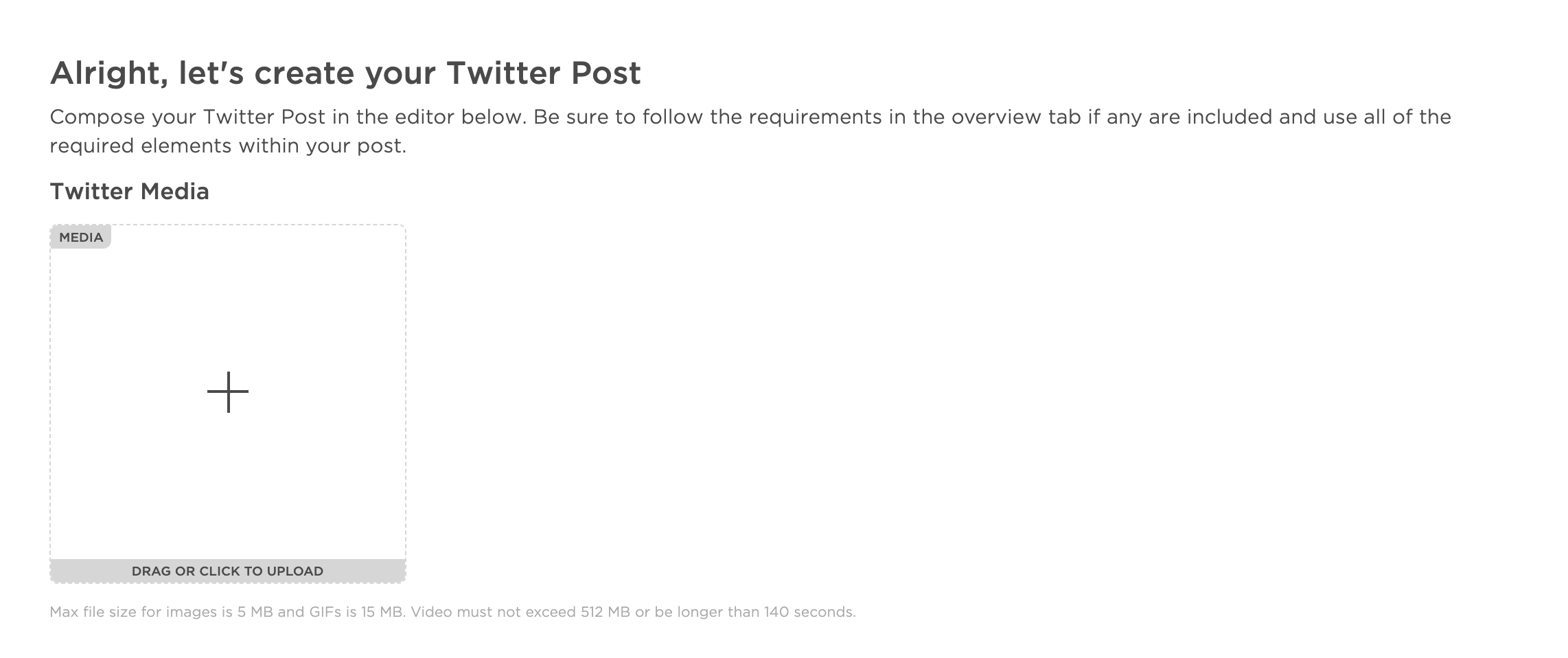 Once your media has loaded, you will need to crop it. You can choose what shape you would like to crop it to. In this example we are using square. After you have adjusted your image, select the green crop and upload button. If you would like to add another piece of media, click the + icon in the box provided.
Pro tip: If the marketer approves this draft, they and the system will expect that all media you submit here will be posted with your content. We recommend only submitting the one piece of media or entire group of media that you plan on fully posting with your content to avoid confusion or system issues after approval.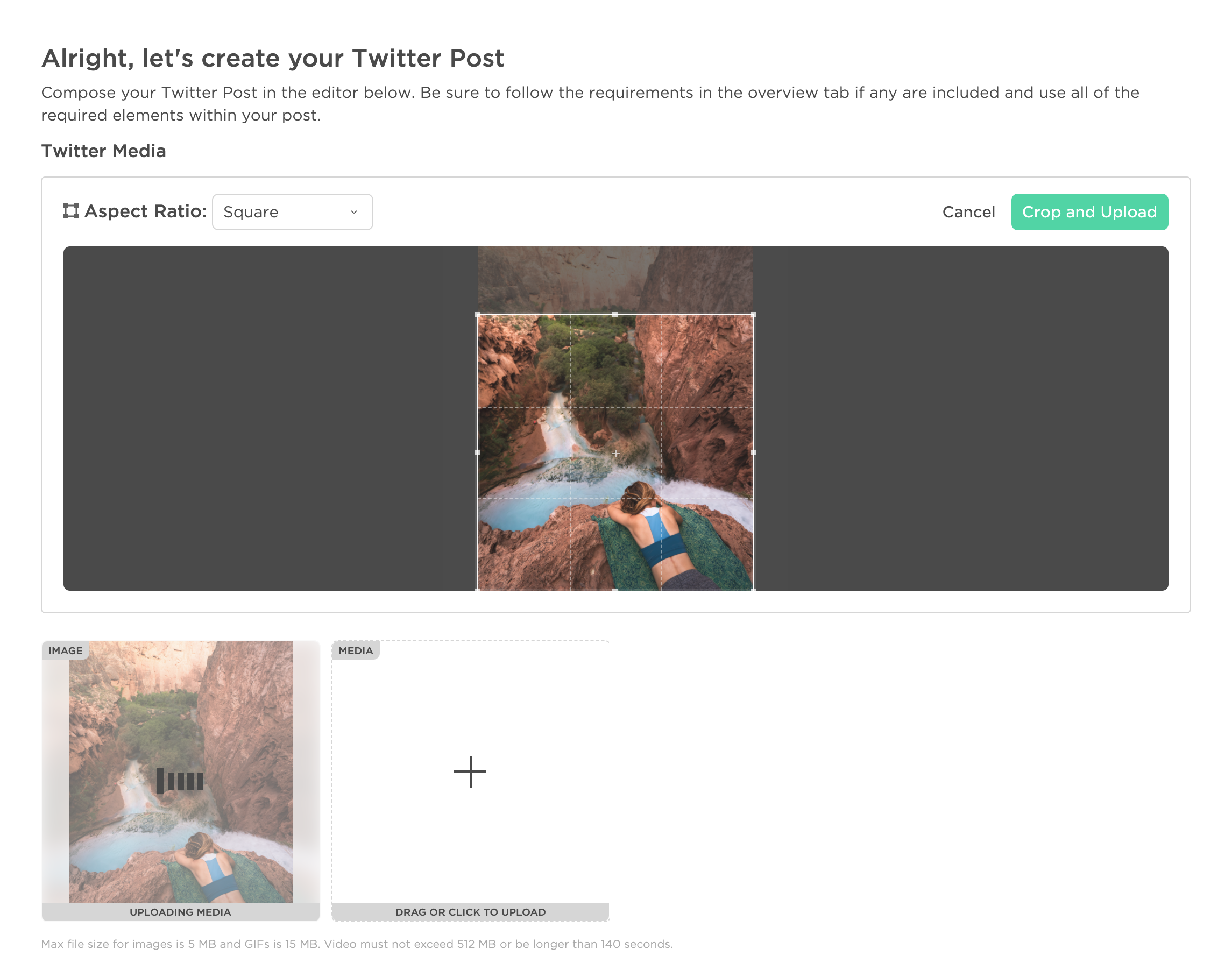 Next, you will need to select the type of disclosure you wish to use. Based on FTC legal guidelines, your content must include a clear disclosure to signify sponsorship. To select your preferred disclosure, click the circle next to one of the disclosure options. Please refer to the disclosure article linked above to make sure you keep your disclosure where it needs to be to stay compliant for your post.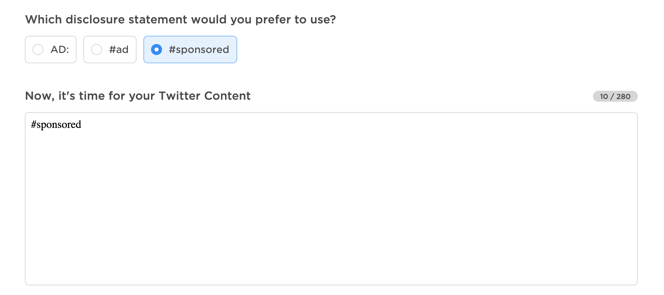 You will now need to create the text content for your post in the box provided. Along with your custom verbiage and required disclosure, your caption must include all of the required elements requested by the marketer (which will be listed directly below your draft box). For required elements, you will simply need to place your mouse cursor where you would like to insert them, and then click the gray add button to insert them into your draft. Alternatively, you may type any required mentions or hashtags exactly as you see them listed and the system will automatically mark them as inserted, provided that the spelling and casing match. URL links, however, will need to be added by clicking them from the list below your draft box.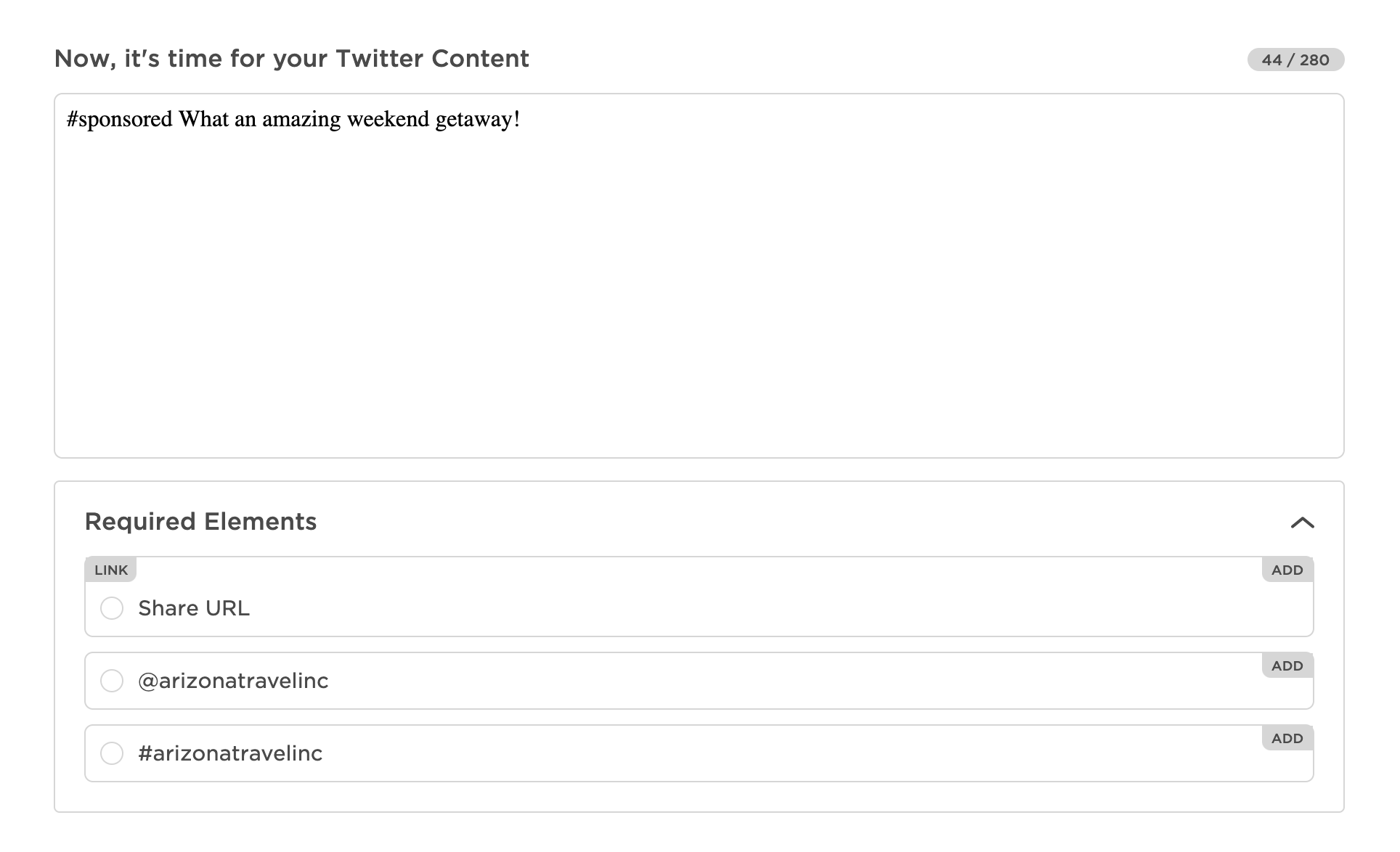 Once you have inserted all of the Required Elements into your content, they will turn green to signify that you have completed adding them in. As noted in the friendly reminder section, please do not post your content until it has been approved by the marketer in the system.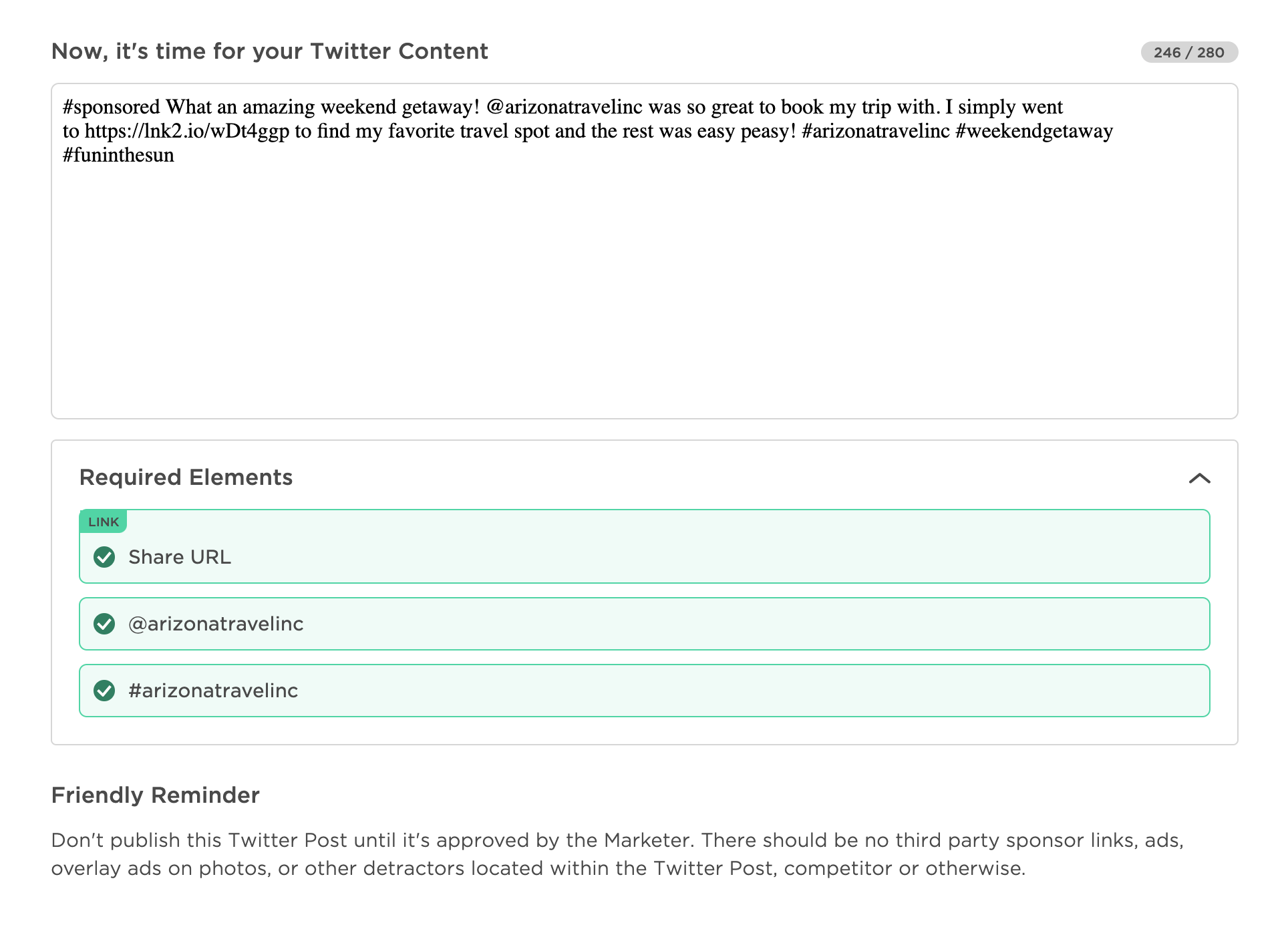 After you have completed your draft, review your content to make sure that everything is spelled correctly (especially the brand and product names) and then select the green Submit Content button to send your draft to the Marketer for review. If you're not ready to submit, you can also select the white close and save draft button to come back and finish your draft later.

If this offer is just for a single Twitter post, you are all set until the marketer approves your draft, at which point, please follow the steps in the following article to complete your post: Publishing A Twitter Post
If there are more posts within this offer however, you will now need to submit your draft content for your other posts.