If you find yourself wanting to go above and beyond for the brand you are working with, you have the option to submit additional social shares for your offer in the system. You will be able to add any post type as an additional share except for blog posts, YouTube videos, or Instagram Stories. Facebook, Instagram, Pinterest, or Twitter posts can be uploaded as an additional share as long as that social channel is connected to your account in the system and as long as the post contains proper FTC disclosure.
By submitting additional shares in the system, the marketer will be able to view and track your additional post(s) and any extra analytics they bring in. This article will walk you through how to add additional shares to your Offer in the system.
From your dashboard, select the offer that is ready to be published by clicking the Project name.

You will be taken to a new page. From there, scroll down to the bottom of your offer and click the white Add Additional Share button.

In the window that pops up, paste the URL link to the post you wish to include as an additional share to the marketer. You are not able to submit blog, YouTube, or Instagram Stories as additional shares, but as long as you have your social media accounts connected to the system you may submit any other post type. Once pasted, click the green Add Additional Share button.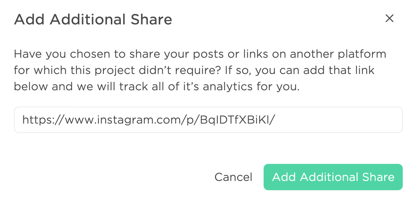 After you have submitted, you will see your additional share listed at the bottom of your offer.

That's it! You have successfully submitted an additional share for your offer.