Once your YouTube video has been approved by the Marketer in the system, you will need to update your current Unlisted video to Public and submit your post for publishing in the system. This article will walk you through publishing your YouTube video and completing it in the system so that the payment process can begin.
Please note: This workflow must be completed on an up-to-date desktop or laptop computer browser. System workflow cannot be completed on mobile web or apps.
Once the marketer has approved your post, it will appear on your dashboard as Ready To Publish. From your dashboard, select the offer that is ready to be published by clicking the Project name.

Locate the YouTube Video Task and click Publish Content.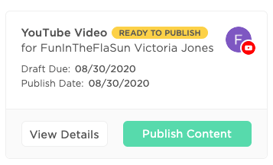 You will be taken to a new page where you can publish your YouTube video. If your draft video is already posted on YouTube as "Unlisted", you can simply change the Privacy settings to "Public" without uploading the video again. You can also submit a new link if you decide to publish your content as a new video.

Using Your Draft Video
Should you decide to use your Draft Video, you'll need to make your video Public.
Click the provided draft video link.

Once on your YouTube channel, select the Edit Video option under your video, which will take you to YouTube Studio.

From here navigate to the visibility section and select the dropdown arrow on the right-hand side.

Select Public, and then Done.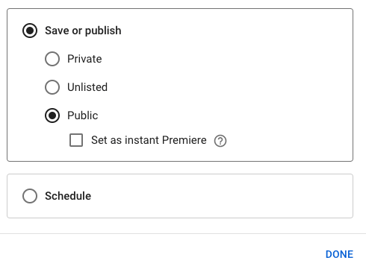 Finally select, Save at the top of your YouTube Video Details.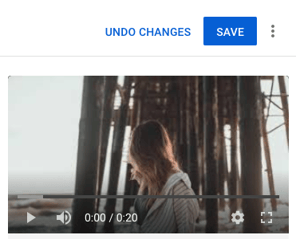 Now that your YouTube video's visibility has been updated, navigate back to your account in the system and click Submit.

Submitting A New Link
Should you decide to submit a new link to an entirely new video, the task will be sent to the marketer for Manual Verification.
The marketer will either accept your content or will submit a revision request and ask you to revise your content. Prior to submitting for verification, please make sure your video is set to Public.
Select the Submit New Link option.

Paste the link to your YouTube video in the field provided.

Click Request Manual Verification

A pop-up will appear asking you for the reason for your Manual Verification request. Enter a brief note to the marketer, check the Project requirements confirmation box and then select, Request Manual Verification.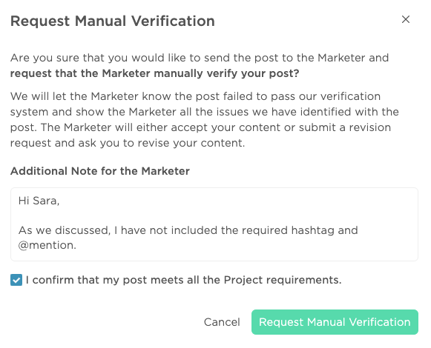 If this is just a single YouTube Video, you are all set! If there are more posts within this Offer however, you will now need to mark your other posts as published in the system before the 45 day verification period will begin so that you can get paid for your work.