Once your Blog Post has been approved by the marketer in the system, you will need to copy and paste the approved HTML listed in the system into the source code of your blog post. This HTML is an exact copy of your post that includes all mandatory tracking links and disclosure. If you do not copy and paste the HTML exactly as provided, your post will fail validation and you will not be paid for your work. This article will walk you through publishing your Blog Post and completing it in the system so that the payment process can begin.
Please note: This workflow must be completed on an up-to-date desktop or laptop computer browser. System workflow cannot be completed on mobile web or apps.
Once the marketer has approved your post, it will appear on your dashboard as Ready To Publish. From your dashboard, select the offer that is ready to be published by clicking the Project name.

Locate the Blog Post Task and click Publish Content.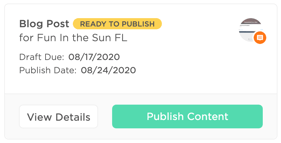 You will be taken to a new page where you will be able to retrieve the approved HTML for your post. You will need to copy this HTML exactly and paste it into your blog. This HTML has been embedded with no-follow tracking links so Marketers can track the clicks and views of your post. If you do not copy and paste exactly what is shown here, your content will not be approved in the system.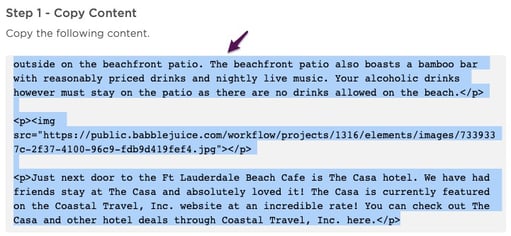 Now that your post is live, you will need to copy the URL link to your Post and navigate back to the system to submit your URL to mark it as published.

Once you have pasted your URL link, click Submit URL to mark it as published in the system.

If this is just a single Blog Post, you are all set! If there are more posts within this Offer however, you will now need to mark your other posts as published in the system before the 45 day verification period will begin so that you can get paid for your work.