Continue with Google allows you to log into your account using your existing gmail account.
Creating a New Account with Continue with Google
By using continue with Google to create a Creator Marketplace account, you will not need to go through the email verification process.
From izea.com, select the icon and then either Sign Up or under Log In select The Creator Marketplace®.
You will then be presented with the following screen: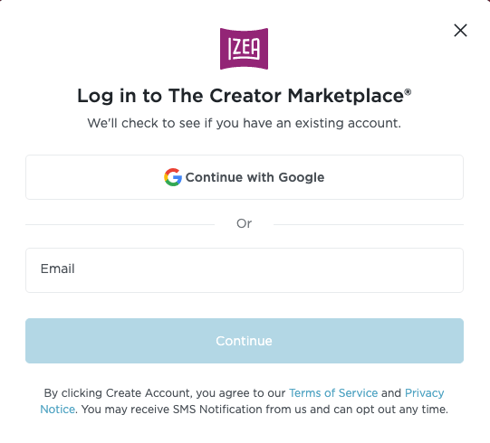 Select, Continue with Google.
Logging Into Your Existing Account with Continue with Google
Important note: If you did not create your account with a Gmail email, please sign in using your existing user name and password.
If you have an existing Marketplace account that was created with a Gmail email address, you can simply select Connect with Google to log into your account. You do not need to enter your email and password.