After you have signed up for a new account in the Shake Marketplace, you will be prompted to begin building your first Shake. Let's get started!
First, you will need to choose the main Category you would like your Shake to be listed under: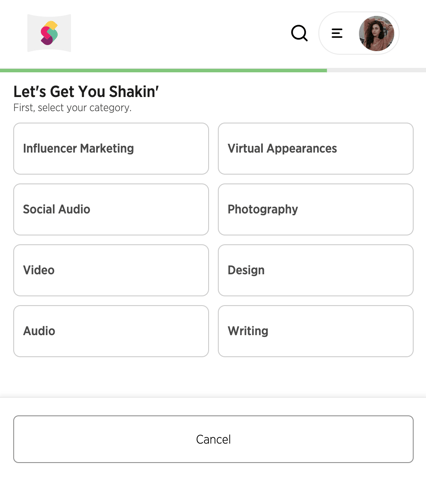 And then you will need to select the Subcategory your Shake falls into: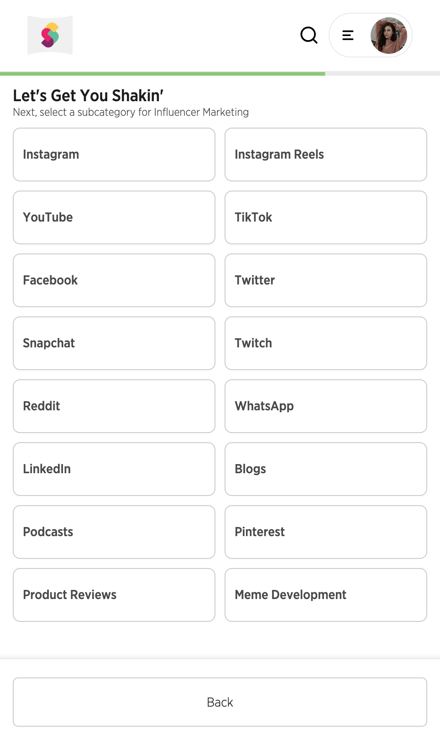 The next step will be to upload sample images or videos that represent what your Shake is all about. We recommend providing 3+ samples to give Buyers an idea of what your work is like.
*Pro tip: You can upload multiple images at once by highlighting them all from your desktop, and then dragging them onto one of the media slot tiles! Once all have uploaded, you can use your cursor to drag and drop your media to rearrange the order in which they display if you would like: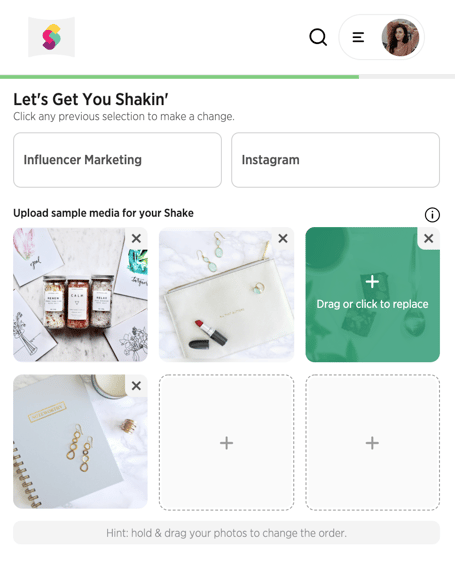 After adding your Sample Media, you will need to add a Title and Description for your Shake. This is your chance to introduce both yourself and your content to potential Buyers, so be sure to include any interesting information about you and what you post! You'll also need to include your Social Handle, Follower Count, and location: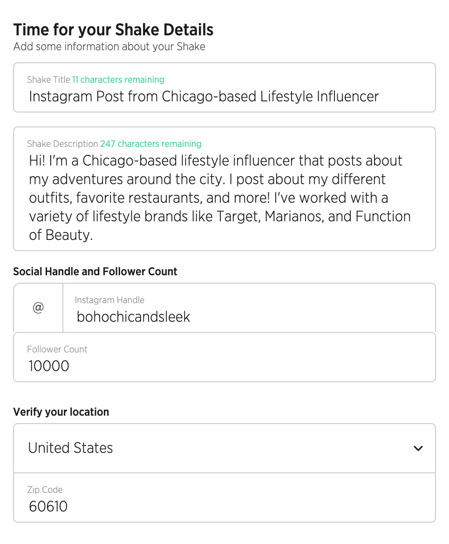 Next, you can add up to three Vertical Tags to help categorize your Shake within the Marketplace: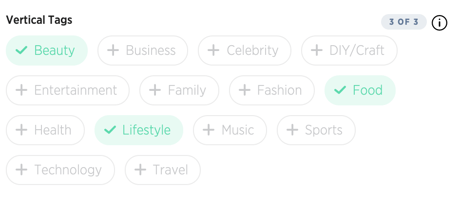 The Deals section is the specific Offering and Deliverables you're presenting to Buyers. This section is pre-filled with our most popular Offerings, but you are able to edit it however you would like. To edit the pre-written elements, simply select inside the text box and make whatever necessary changes you so choose.
For each Deal, you will need to add a Deal Title, Deal Description of what you're offering, Deal Features of your offering, Days For Delivery, Number of Revisions you will allow, Licensing type you will allow, and the Price you are asking. There is a maximum of four Deals and a minimum price of $50 per Deal that you can add per Shake.
To add an additional Deal, select the plus icon. To remove a Deal, select the delete icon.
*For additional information on any section of the deals, select the information icon on the right.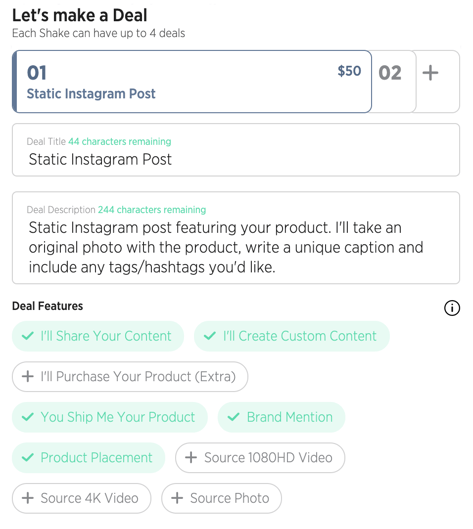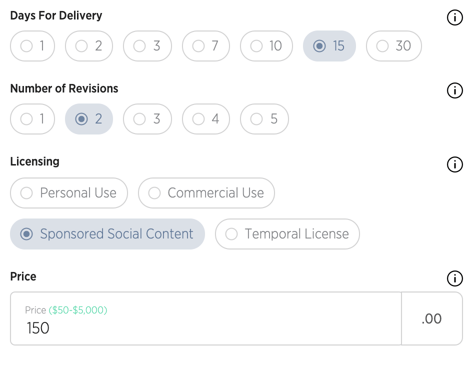 Options are designed to be optional add-ons for Buyers to purchase in addition to your Deals. To add an Option, include an Option Title, Option Description, any Additional Delivery Time (in days), and the Price of the add-on Option. To remove an Option, simply click the delete (trashcan icon) on the right. To remove all Options, just toggle off Options at the top right of the section: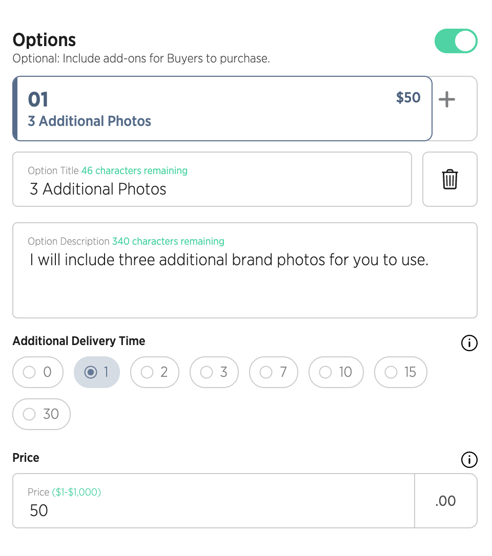 Buyer Requests are optional questions you can add which Buyers will need to answer in order to work through your Shake once it's been purchased. In the Request 1 box, you can specify the type of question you'd like the Buyer to answer, and then you can select the answer format, and if it's required or not. If you require a Buyer Request, your Shake will be unable to be completed until a Buyer answers the question you've requested within your Shake's chatbot: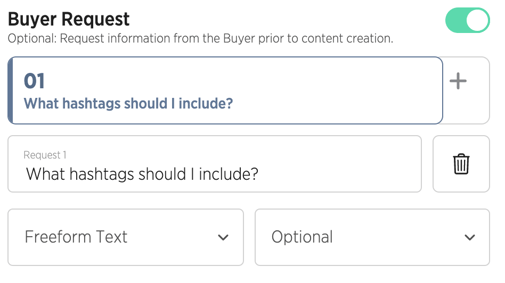 Once you've completed your Shake, scroll down to the bottom and click Preview Shake to see how it will look to Buyers. If you'd like to save it as a draft to finish it later, you can click Save & Close.

If after clicking to preview your Shake you find that you need to make additional edits, you can go back to the previous editing screen by clicking Edit at the bottom left, otherwise if you are happy with the way the Shake looks and have no Edits to make, simply click Submit For Review at the bottom right. After you have submitted your Shake for review, our team will review it and publish it to the Marketplace.
*Please note that some Shakes may be sent back to you by our review team requiring a few small change requests. If your Shake needs to be changed, you will be notified via email.