There are a few ways to fund your campaigns within the platform. This article will walk you through the different ways to fund your campaigns.
Allocating Funds To Your Account
Before you are able to make offers to creators, you will need to allocate funds to your marketer account from your organization. This can only be done at the admin level and will need to be completed before creating your first campaign.
Setting A Campaign Budget (optional)
When you create a new campaign, you will have the option of setting a campaign budget. Your campaign budget will ensure you do not overspend your Account Balance, and direct funds accordingly in your campaign initiatives. You must have funds in your account balance in order to set a campaign budget.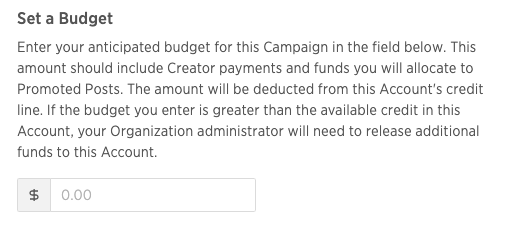 For example: If you have $1,000 in your main account balance and would like to split those funds between two different campaign initiatives, you can set up your account so that campaign #1 (To promote your monthly contest) will max out at $500 and campaign 2 (To promote your new product) will max out at $500. Any funds that aren't used in the campaign need to be reallocated back to your main balance when your campaign has ended.
Please note: You can only set a campaign budget when you first create your campaign. Otherwise, you will have to manage the budget for that campaign manually.