When reviewing Content, you have the ability to make Annotations directly on the Creator's submitted content. This article will help walk you through using the Annotation Tool to request changes.
1. Locate and select the Campaign where the offers are housed from the Marketer Dashboard and click on the highlighted number under Ready for Review.

2. From here you will be taken to the Campaign Dashboard. Locate the Project with the content notification under the Ready for Review column and select the highlighted number.

3. You will then be taken to the Draft Review screen. Choose which piece of content you would like to review by clicking on the Name of the Connection.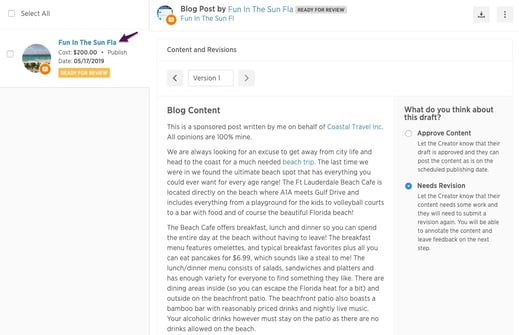 4. From the Draft Review screen you will also be able to see the Creator's submitted content in its entirety as well as the following information:
Final Cost of the content
Due Date
Creator's selected publish date
Version of the content you are currently reviewing. The Version is the number of times the content has been submitted for review.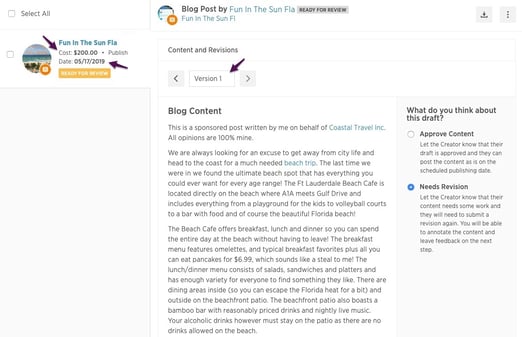 5. To start revising the Creator's content you will need to select Needs Revision and then Next.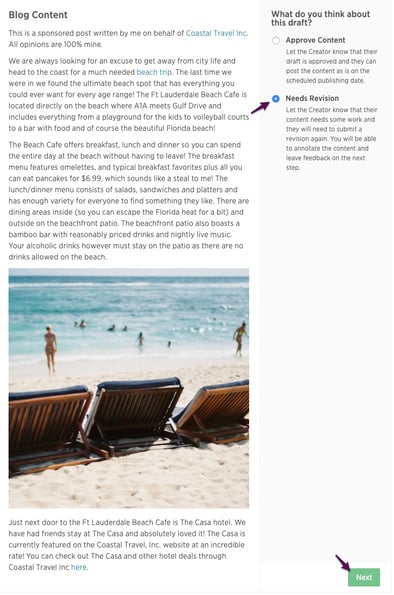 6. In order to leave an annotation, simply highlight the text or image in the Creator's content and an Annotations box will appear where you are able to add your feedback. Once you have added your feedback select, Comment.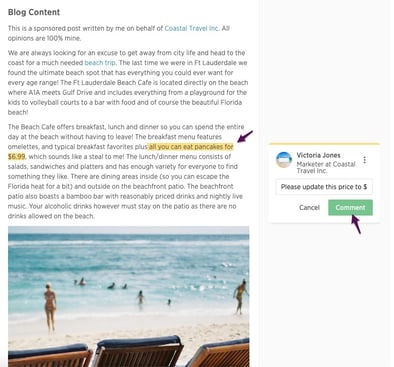 7. As you add multiple annotations, they will stack on the right-hand side of the content.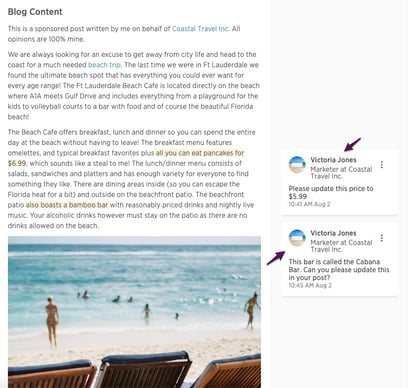 8. If you need to edit or delete an Annotation or comment, select the

icon and choose one of the options provided. If you choose to delete the Annotation in its entirety you will receive a pop-up confirming that you would like delete the Annotation. If you are sure you would like it delete select, Yes, Delete Annotation.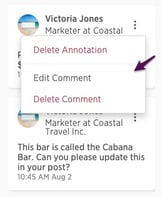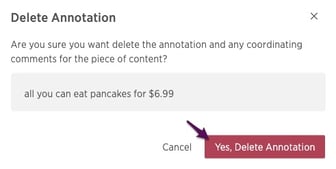 9. Once all of your Annotations have been added, select Next. Then select Revise Content which will prompt a box to include general revision feedback to the Creator. Click Submit to send your feedback to the Creator.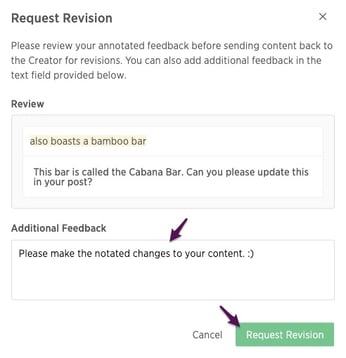 10. After your revision has been sent back to the Creator it will move to the Waiting For Revision status under your Outline.