If you have participated in a Campaign and have expenses that need to be reimbursed, you can request a payment from the Marketer on your Direct Pay tab. The Direct Pay tab is not to be used for requesting payments from Marketers for any Sponsorship or Content opportunities that you have completed through the platform. These payments can be found on your Finances tab.
You can only request payments for expenses that have incurred after the negotiated price. For example, if you incurred a travel expense such as a hotel stay that the Marketer has agreed to pay, you can request reimbursement for this expense from the Direct Pay tab. The following article will walk you through requesting a payment.
First make sure that your phone number has been verified and your PayPal has been added to the system. The following articles will help you with how to do that:
Navigate to your Finance section by clicking the dropdown under your Avatar at the top right-hand corner of your screen.
From there click Direct Pay and once you are in the Direct Pay dashboard, select Request Payment in the bottom right-hand corner.

A flyout will appear asking you for a Description of your payment. You will also need to include the name of the Marketer who will be sending your payment.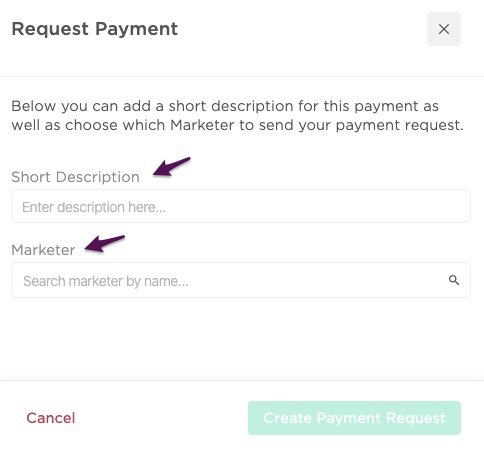 To locate the Marketer, enter their Account name in the box provided and select the hourglass icon. Once their account populates, select the name of the Marketer and then Create Payment Request.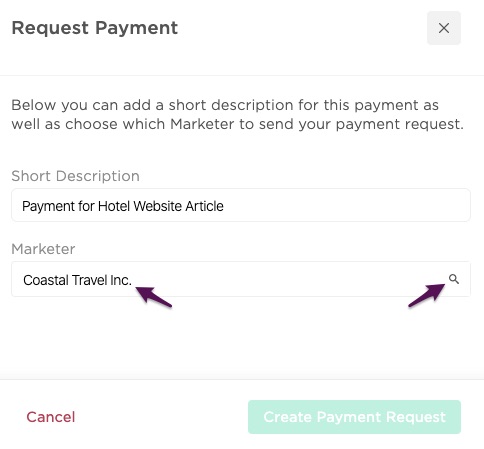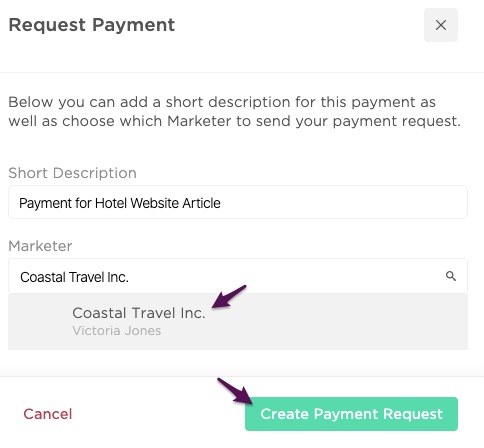 On the Payment Request page, select Create Line Item in the top right-hand corner.

From here, you will need to enter the following information:
Date
This will be the date that the payment request was submitted. The date will auto-populate to today's date or you can select a different date from the calendar drop-down.
Amount
This will be the amount agreed upon by you and the Marketer.
Type of Payment
As a Content Creator, you will only need to choose from one of the four Content options provided.
Notes
Your notes are essentially the description of the payment.
Attachements (jpg, PDF, or docx)
If you have any attachments for your payment request, like receipts or completed work, you may add them here.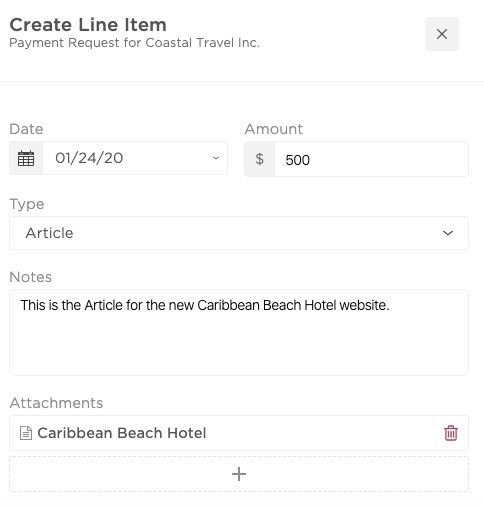 After you have filled out all of the required information, select Create Line Item.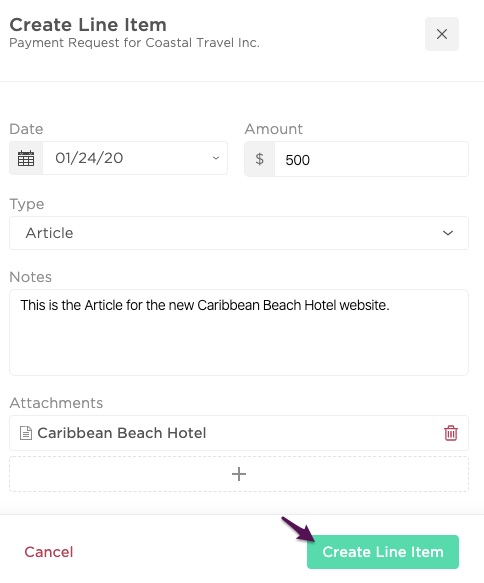 Now that you have included all of your information for this report, select Submit For Review. If you would like to add more Line Items or edit this Payment Request at a later date, select Save Payment.