CRM email tracking allows marketers to keep all communication with creators in one place. These email communications can be easily referenced at any time from the creator's full profile under the CRM tab.
You can link these emails back to your account in one of two ways:

Email creators directly from the creator's profile and these emails will automatically be pulled back into that specific creator's CRM tab on their full profile.
Email creators outside of the platform and import all communications back to the CRM tab by bcc'ing the unique tracking code email in each email sent.
In-Platform CRM Linking/Tracking
Search for creators in Discovery based on the campaign or search for a specific creator by name.
Once you have located the creator you would like to email, click on the creator's name and the creator's flyout profile will appear on the right-hand side of your screen.
Fro

m

the flyout,

c

li

c

k the menu icon

in the upper right

c

orner. A full list of

c

li

c

kable a

c

tions you

c

an take will appear where you

c

an then

c

li

c

k

Email creator.

A pop-up will appear alerting you that a template will be generated in your email with the creator's email address and your unique tracking email address bcc'd automatically uploaded for you to begin communications with the creator.
Once you have crafted and sent the email to the creator, the email will automatically be imported to your account in the platform.
Please note: As long as the unique tracking code is added in your communications, each email response will be imported back to your account.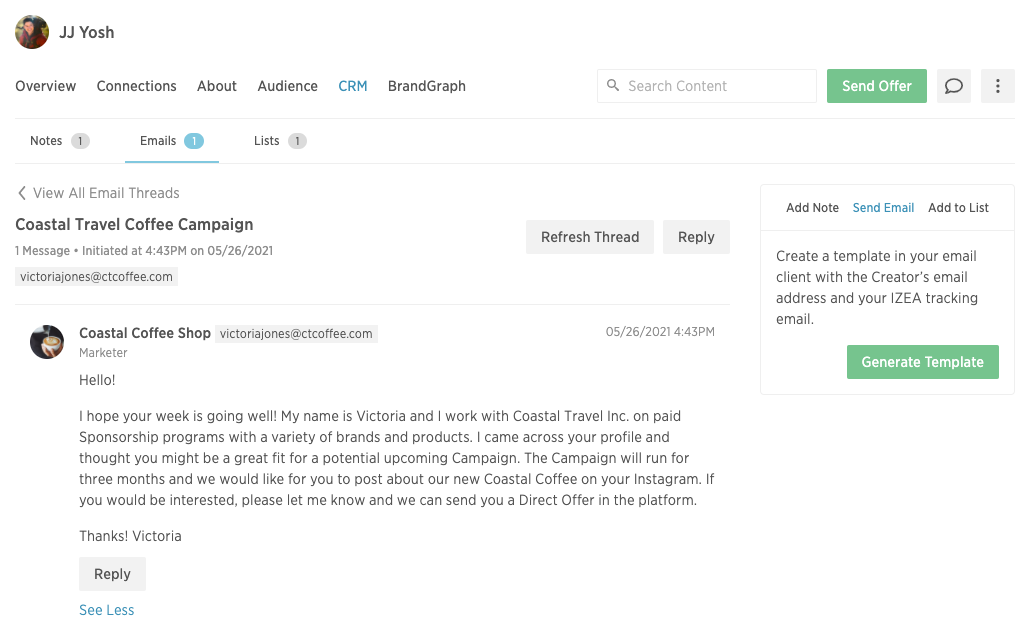 Off-Platform CRM Linking/Tracking
Any conversations that are started outside of the platform, will need to be imported back to the CRM tab by adding your unique tracking code.
To locate the unique tracking code, navigate to your Account Settings by clicking on your name on the upper-right corner of the screen, where a drop-down menu will appear. Click Account Settings and a new page will load with your Account information.
Click Email Tracking and a new page will load with your email tracking information.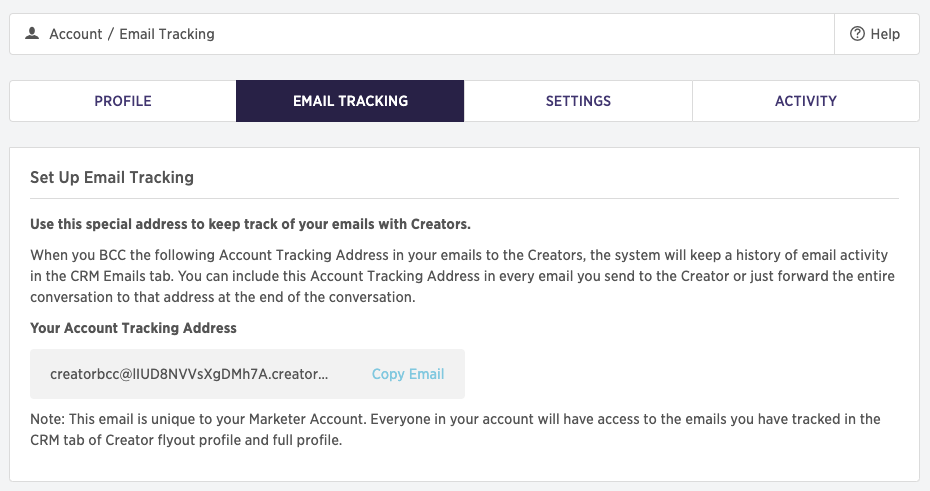 Select Copy Email, and your unique tracking email code will be copied for you include as a bcc in your email communications with the creator.
Important: If the email thread continues, please make sure you include the bcc by selecting "Reply All" in your email. If you do not, the system will not receive other emails and you must manually import your emails back to the system by forwarding the additional emails to the account tracking email. They will then be pulled into the CRM emails tab.