With VizSearch you can directly search and sort the visual content from Instagram, YouTube, Pinterest and TikTok of both Discovered Creators and On Platform Creators to help identify Creators for your Campaigns. VizSearch is also integrated with BrandGraph to further provide you enhanced results. This help doc will walk you through Navigating VizSearch and the actions that can be taken from your results.
Navigating VizSearch
1. Log into your account and select VizSearch in the left hand navigation bar. Using this tool, you will be able to view, search and filter recent content that has been posted by Creators. This content is pulled directly from the Creator's feed and has been programmatically labeled as Organic or Sponsored based on known disclosures (AD, #ad, #sponsored, etc). Content is also vetted by our programmatic curation before it is displayed. If the content does not match the set criteria, it will not be displayed.

2. Locate the Keyword search box. Enter a keyword or brand name of your choice and click Search. You can also toggle BrandGraph on or off. From here, the content that matches your search will populate. You will then have the option to filter your searches by the following:
All Networks -This toggles between Creators in the platform and Creators that signed up using a Marketers unique link.
Top Content Per Creator - This will display the top results per creator. Toggling off will show multiple posts by the same Creator.
Date posted - You can select Past 7 Days, 30 Days, 90 Days, Custom Range
Instagram Post Location - This is a tagged location, like popular cities or locations. It is not the Creator's location.
Creator Connection - You can select from Pinterest, YouTube, Instagram and TikTok.
Creator Engagement Rate - Use the sliding scale to adjust the Engagement Rate percentage.
Creator Status - This allows you to find Discovered Creators or On-Platform Creators.

3. Clicking +All Filters will show additional options to further narrow your search, such as Post Type and Email.

4. Lastly, you can sort your results using the Best Match drop down to sort by the following:
Best Match
Most Engaged
Newest
Oldest

5. Once you find a post you are interested in, you can click directly on the image to view more details. From this pop-up, you can also take several actions, including View Connection, Email Creator, and Add to List .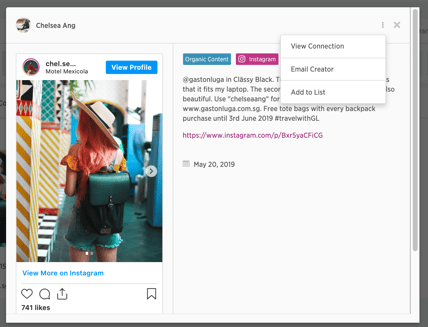 6. For On-Platform Creators, if you click on the name of the Creator, a Flyout window will show you an overview of their profile with much more information, including their location, rates, details about each of their Connections, and audience insights. You can also use the Search bar to search for specific content.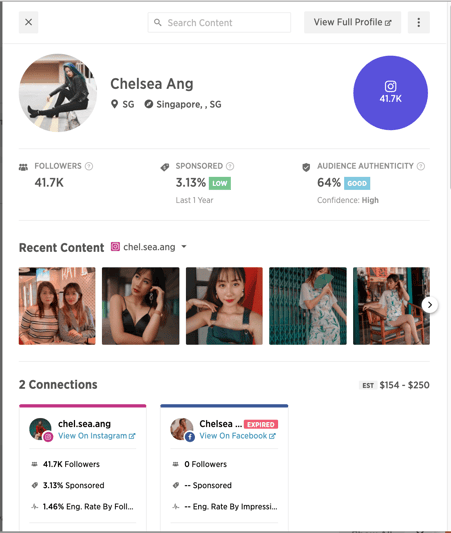 7. Clicking on View Full Profile will open that Creator's Profile in a new tab where additional information, such as Most Engaged Content, is provided for a deeper review.