Since first launched, Instagram Reels has continued to grow in popularity as a content type within influencer marketing campaigns. The following will help you successfully create and execute Instagram Reels campaigns in the IZEA platform.
Important note: The platform automatically gathers the following metrics for Instagram Reels:

* Followers
* Engagements
* Likes
* Comments
All other metrics will need to be provided by the creator directly to you.
Tips for Setting Up an Instagram Reels Project
Unit Name
When setting up your Instagram Reels project, you will want to want to make the completion steps very clear for your creator.
In the IZEA platform you have the option to add an Instagram unit type to your project.
At this point, you can change the unit name. Adding the word "Reel" to the unit name provides clear direction to the creator that this is an Instagram Reel unit type.
Pro tip: Adding more details to your unit name will help keep your units organized and provide more clarity to the creators.

Example: Instagram Reel - Unboxing Part 1

Post Description
When creating the Instagram post description, we suggest adding some additional language to assist the creators who are participating in your campaign.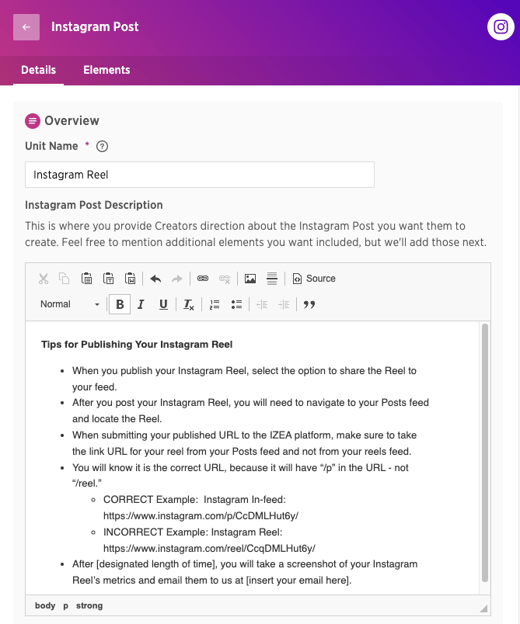 Creator Tips For Publishing Instagram Reels
Pro tip: Marketers, you can copy and paste the following instructions directly into your Instagram post description.
When you publish your Instagram Reel, select the option to share the Reel to your feed.

After you post your Instagram Reel, you will need to navigate to your Posts feed and locate the Reel.
When submitting your published URL to the IZEA platform, make sure to take the link URL for your Reel from your Posts feed and not from your Reels feed.

You will know it is the correct URL, because it will have "/p" in the URL - not "/reel".
CORRECT Example: Instagram In-feed: https://www.instagram.com/p/CcDMLHut6y/
INCORRECT Example: Instagram Reel: https://www.instagram.com/reel/CcqDMLHut6y/

After [designated length of time], you will take a screenshot of your Instagram Reel's metrics and email them to us at [insert your email here].
Creators Tips for Locating Instagram Reel Metrics
The following steps will help your creators locate their Instagram Reel's metrics. These metrics will need to be provided to you as a screenshot for your campaign analytics.
Navigate to the REELS tab on your Instagram profile.
Select the Reel you would like to view.
Below the Reel, select View Insights.
You will now be able to see how many likes, comments, saves and shares your post received.

You will also see other engagement and post interactions metrics, such as: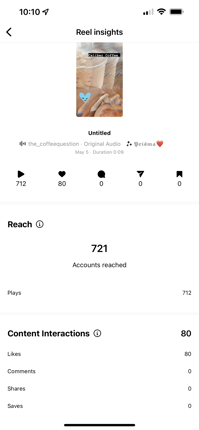 If you have any additional questions about using Instagram Reels in your marketing campaigns, please feel free to reach out to us at support@izea.com or contact your Customer Success Manager.