For Instagram Stories you will need to manually verify each metric submission from the creators. You will have the option to review the frames/metrics uploaded by the creators and then you can choose to approve or request a revision for the frame metrics.
Once in your project, you will be taken to the outline tab. From here navigate to the manual verification tab.

On the manual verification tab, you will be able to view all of posts that need to be manually verified. They will be listed as submission error, verification error, or ready for verification. For this article, we will be focusing on the ready For verification. From the list provided, select the post that you would like to review by clicking on the creator name.
Now that you have selected the post you would like to verify you will be able to view the follow:

Creator Submission - These are screenshots of the final upload from the creator and also the approved upload from the creator.
Frame Insights - These are the analytics for the individual Frame uploaded by the creator. Creators are asked to manually provide this information.
You have the option to verify the submission or request a revision. Before verifying, please make sure that you have reviewed the metrics for each submission. These metrics will be used on your analytics tab for your project's reporting. Once verified this action can not be undone. If after reviewing the issues you would still like to verify the post, select Verify Submission.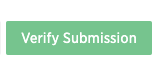 Once the post has been confirmed, it will move back to the outline tab as Verified.

If you would instead like to request a revision, select the menu in the right-hand corner and then select, Submit Revision. You will need to provide the creator with a note for why the revision has been requested.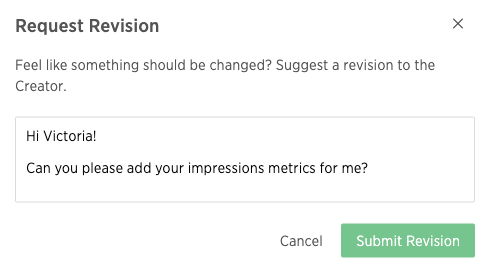 Once the change request has been made, the post will move back to the outline tab as a requested revision.