In order to create a Campaign and begin sending Offers to Influencers, you will need to allocate funds to your Marketer Account(s). As an Admin, you have the ability to designate which Marketer Accounts receive funds and the amounts they receive.
Please note: You must have full Admin access in order to allocate funds. Operators will not be able to fund Marketer Accounts.
1. If you are currently logged into your Marketer Account, click the drop down next to your name and then select Switch to Admin.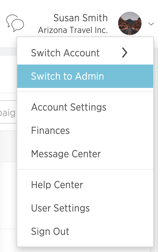 2. Once logged into your Admin Account, locate and select the Finance tab on the left-hand navigation.
3. From the Finance tab, you can view the available balance that has been loaded into your platform and then transfer funds to a specific Marketer Account. Using the drop-down menu, select the Marketer Account you would like to allocate funds to and enter the amount in the box provided. You can also enter a message for the transfer that will let the Marketer know how these funds are to be used. For example, you can enter For the AZ Summer Vacation Campaign to specify the Campaign these funds are to be used for. Once you've completed filling out the requirements, click Allocate Funds to complete your transaction.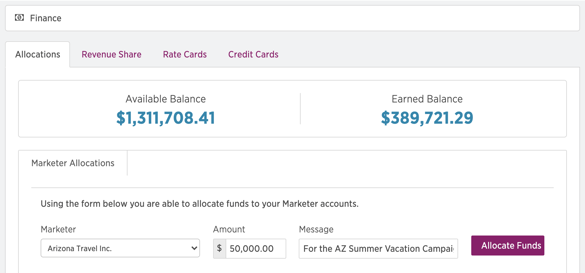 4. After the funds have been transferred from the platform to the Marketer Account, you will be able to view the new available balance within the Current Allocations section of your Allocations tab.

5. When you switch back to the Marketer Account, you will also be able to see the available funds in the Available Balance box. Once funds have fully transferred to the Marketer Account, Campaigns can be created and funds can be transferred to them.