There are two main ways to locate On-Platform Influencers in the system:
Through Unity Search - which will pull up any Influencer who has already signed up and created a full account in the system.

Or through VizSearch - which is a content search tool, that will pull up live social media content from both Influencers who are already in the system (found in Unity Search), and also publicly Discovered Influencers who have not yet created an account in the system.
From either Search section, you are able to view their Full Profiles to see a wealth of information that will help you determine if they are a good fit for your campaign. Similar information will be provided in a Creator's Flyout Profile, but Full Profiles provides more in-depth information. It will also open in a new tab so you can view them later, or navigate between them and your search results. This article will walk you through navigating Full Profiles for On-Platform Influencers.
Finding Full Profiles
You can view Full Profiles for On-Platform Creators from both Unity Search and VizSearch. In Unity Search, to see a Creator's Full Profile, click on the three dots beside their name and select View Full Profile. This will open the Profile in a new browser tab.

In VizSearch, click the name of the Creator to see their Flyout Profile, and then click View Full Profile at the top right. This will open the profile in a new browser tab.

Overview
The first pages gives you an overview of the Creator's Full Profile and will list some helpful metrics. If you are unsure what a particular metric means, simply hover your cursor over the question mark symbol to view a tool tip that will provide you with more detail. This section includes data about their Recent Content, Connections, as well as their top Brand Mentions.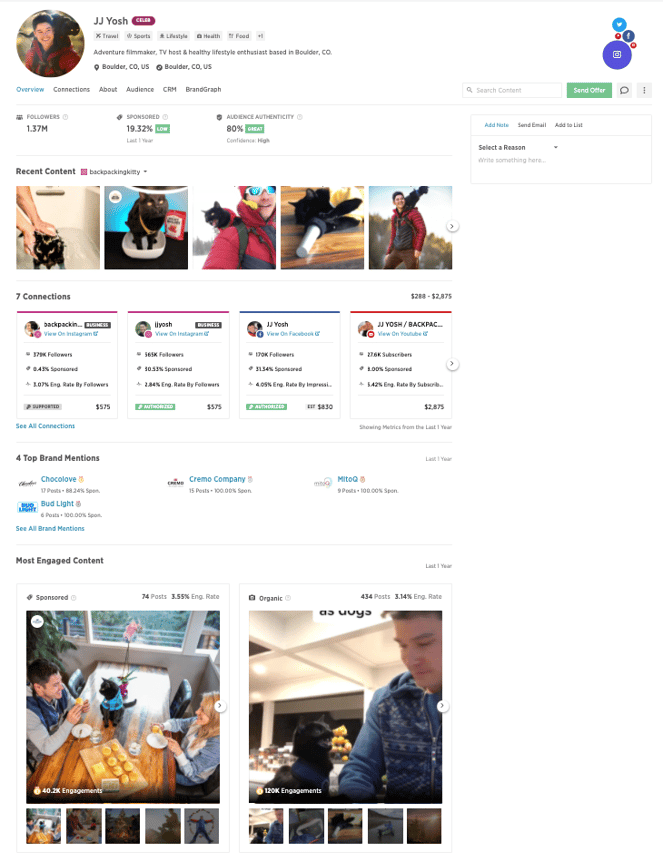 From any tab on the Full Profile, you can always use the actions at the top right to either Search Content, Send Offer, Chat, and take other steps from the drop down menu seen below.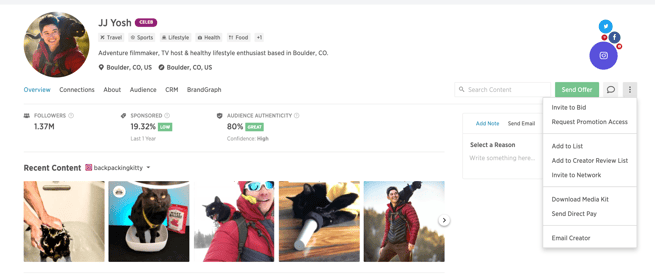 Shakes
Shake is a new online marketplace that allows sellers to offer their services, delivered digitally, for a self-determined price. This Creator has listed their available "Shakes" - creative packages that you are able to purchase.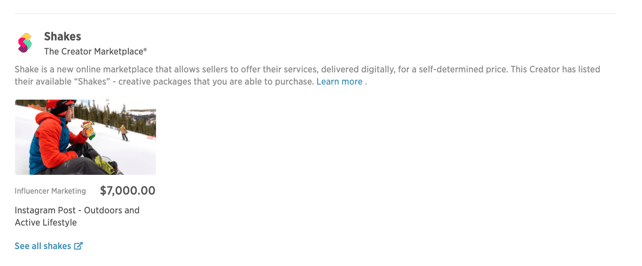 Clicking on See All Shakes will open a new window and bring you directly to our Shake Marketplace.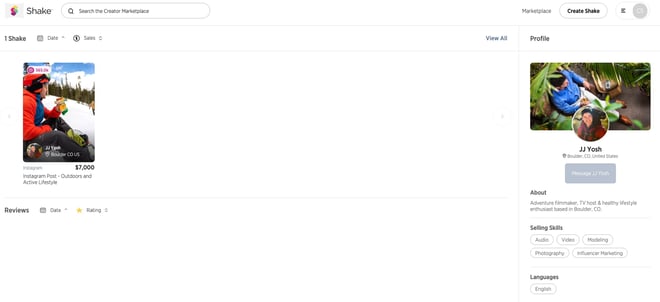 Scrolling down you'll learn more detail About the Creator, as well as their Audience insights.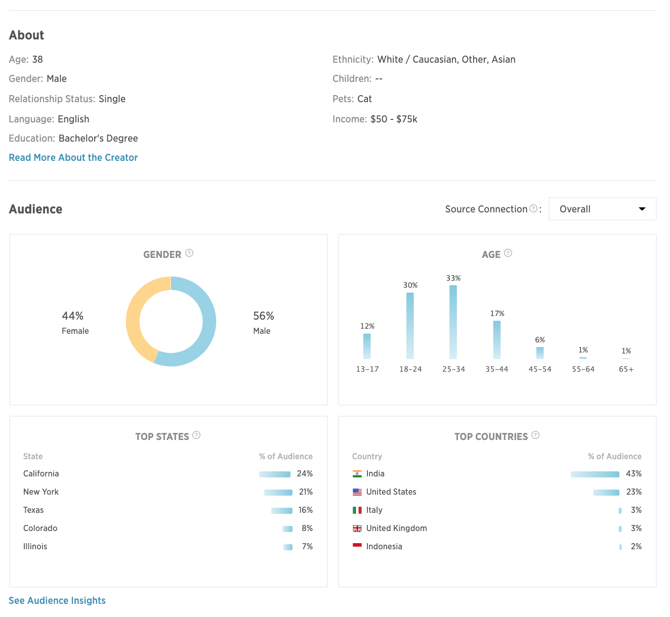 Connections
The Connections tab will allow you to see all the social platforms currently connected in IZEA for that Creator, and will highlight their Followers, Sponsored Rate, Engagement Rate, as well as indicate if they have a Business account. The Business account badge is only available for Instagram Connections in the system and is needed for being able to promote the Creator's content in the system using Promoted Posts. You can also view their Rates across each platform.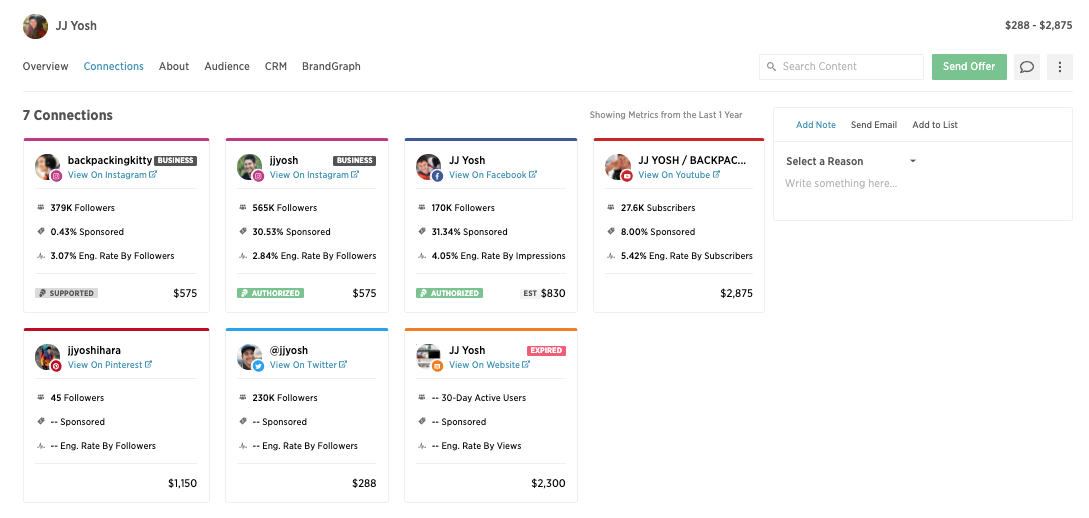 Clicking on any one of the Connections will show you specific data points about that Creator, including Analytics, Content Performance, and Audience insights.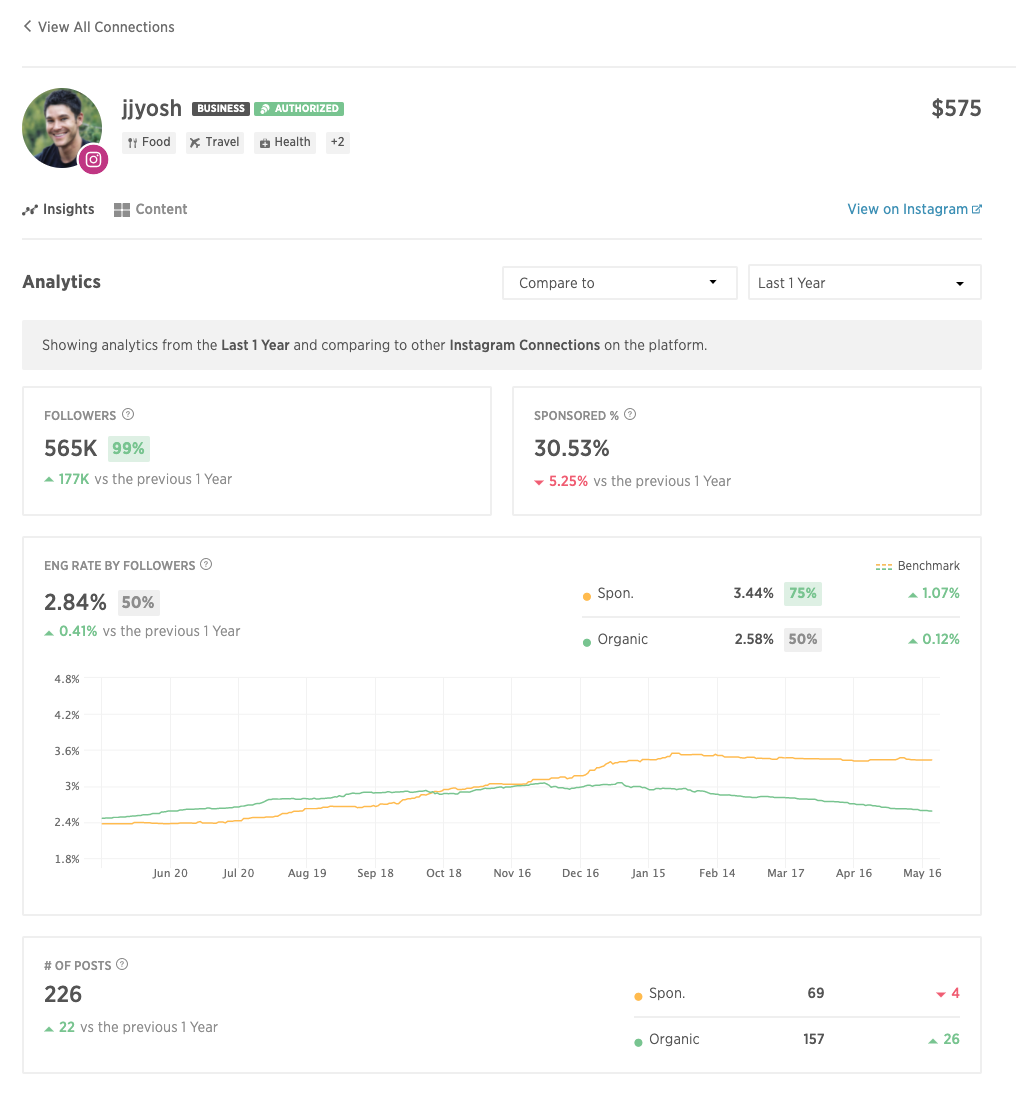 About
The About tab provides the Contact information for that Creator, as well as self-inputted information like Age, Gender, and any Tags and Communities that they selected during sign up.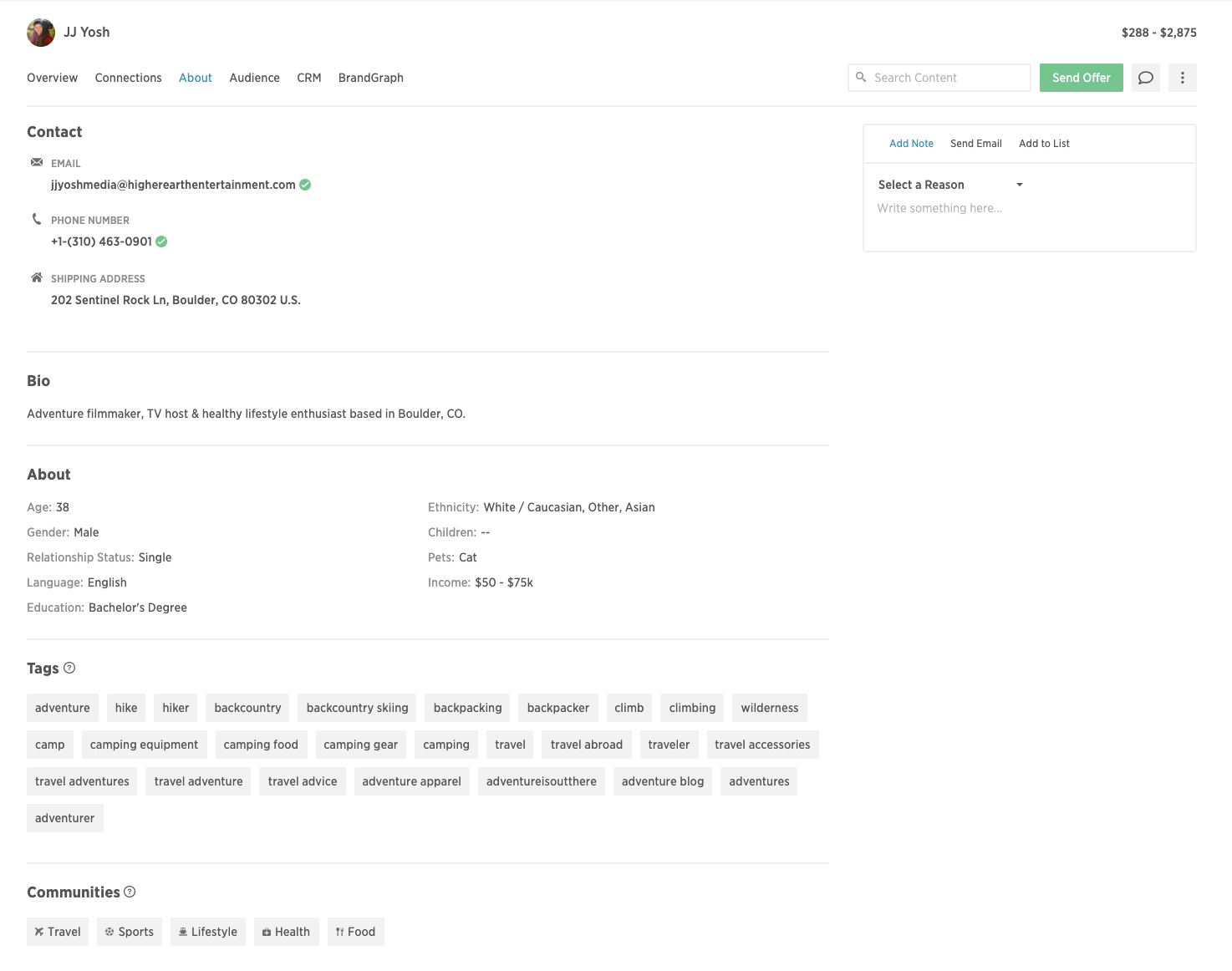 Audience
For a deeper look into the Audience of the Creator, the second tab will provide detailed data about each of their social connections, including Engagement Insights, Audience Gender and Age, as well as Top Cities. Click the arrow buttons to see Top Countries, Top States, and Target Audience.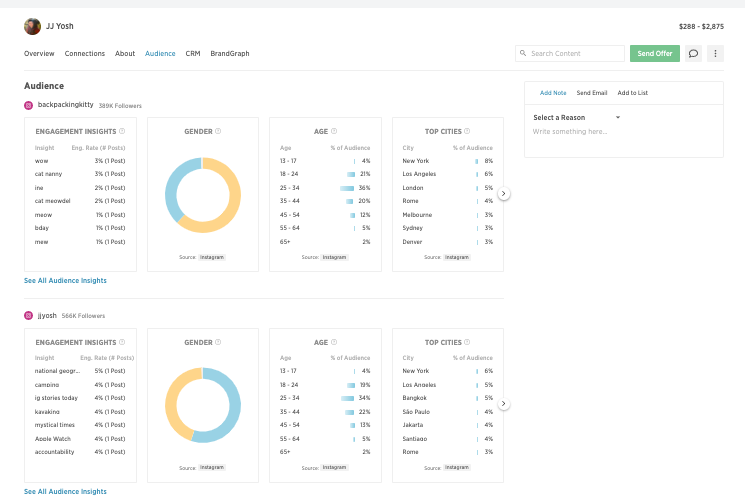 If you click See All Audience Insights on any of the Connections, a new window will open and bring you to that Connection's Analytics.
CRM
The CRM tab allows your team to keep internal notes, track emails, and shows you which Lists the Creator has been added to. This is a handy tool for keeping yourself organized for past and upcoming Campaigns.
Notes
The Notes tab shows all notes added within your Marketer account, and are private to that Marketer account. You can also quickly add additional notes while viewing the Full Profile.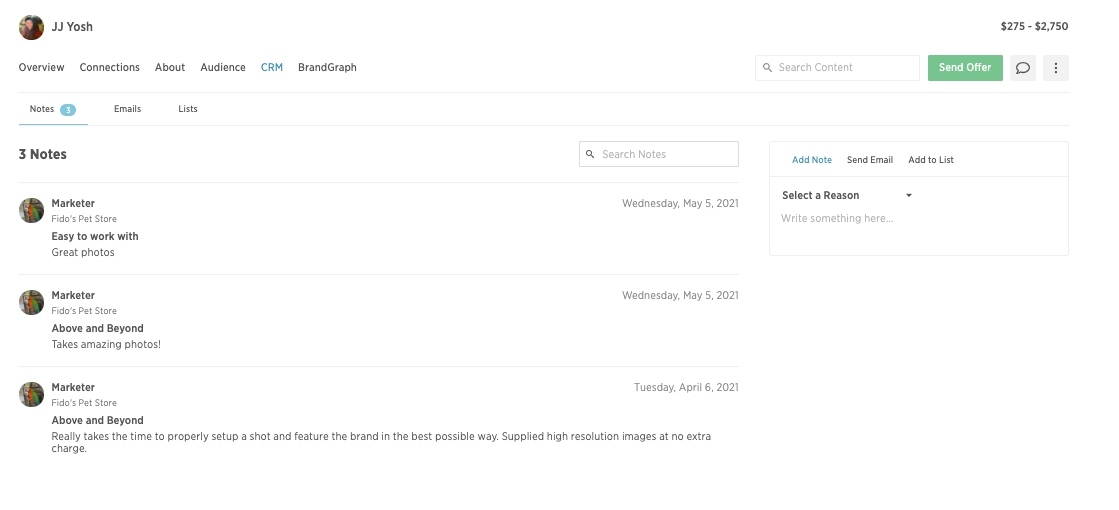 Emails
Within Unity Suite, you have the ability to track external communications with Creators through your own email client (Outlook or Apple Mail, for example) by using the CRM Tracking tool. These messages will be tracked under the Emails tab. You can also email the Creator from this tab by clicking on Generate Template.

Lists
The Lists tab identifies which Lists this Creator has been added on, and lets you quickly add this Creator to a new List using the Add to List feature to the right.

BrandGraph
The BrandGraph tab uses our proprietary software to identify which Brands this Creator has posted about.
Brand Mentions
The first tab provides you with a summary of their top Brand Mentions.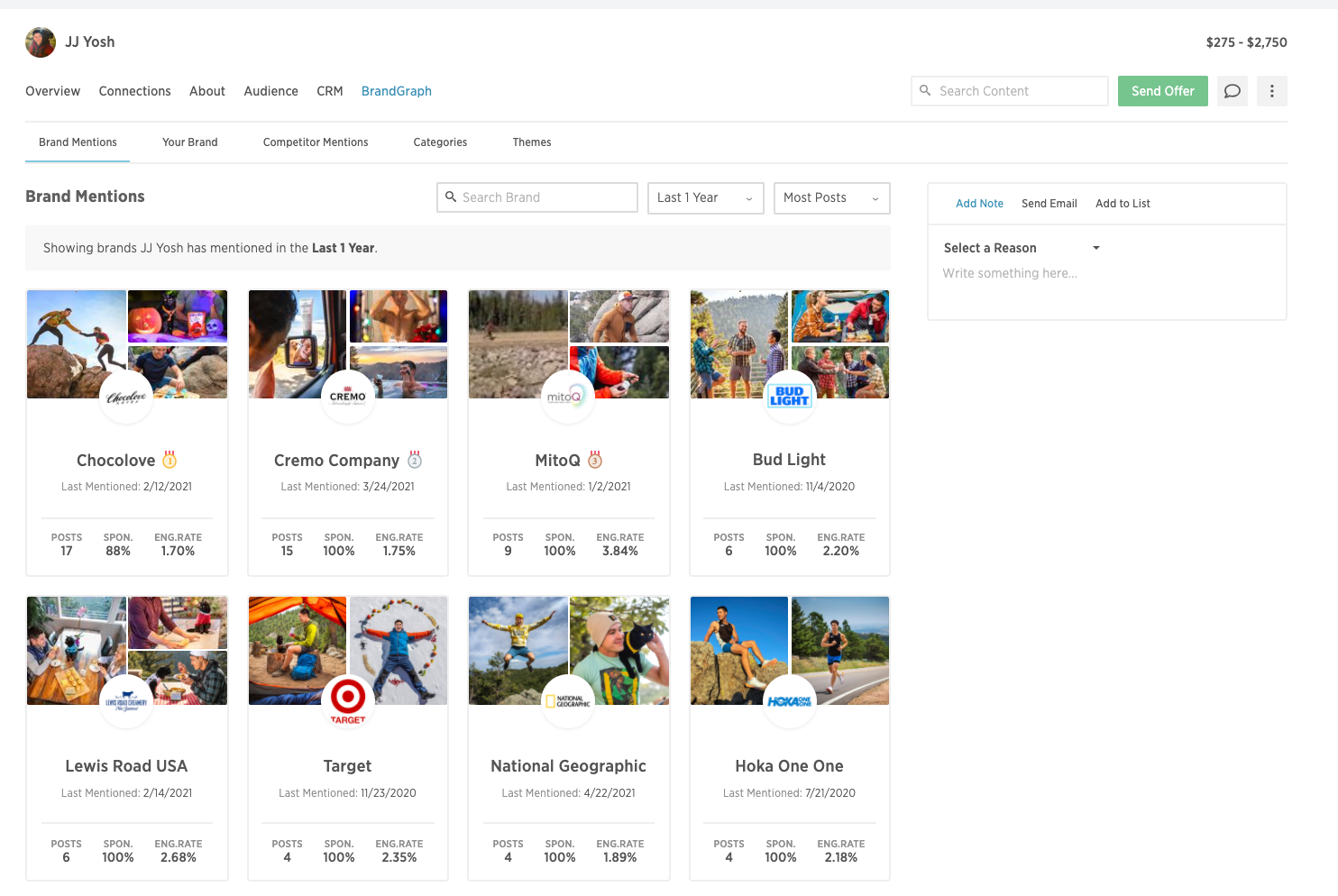 You can use the Search Content box at the top right to find additional Brand Mentions, and use the filters at the top right to adjust the date range of your results.

Use the drop down beside the Date filters to further sort your results by Most Posts, Highest Sponsored %, Highest Engagement, or Alphabetical.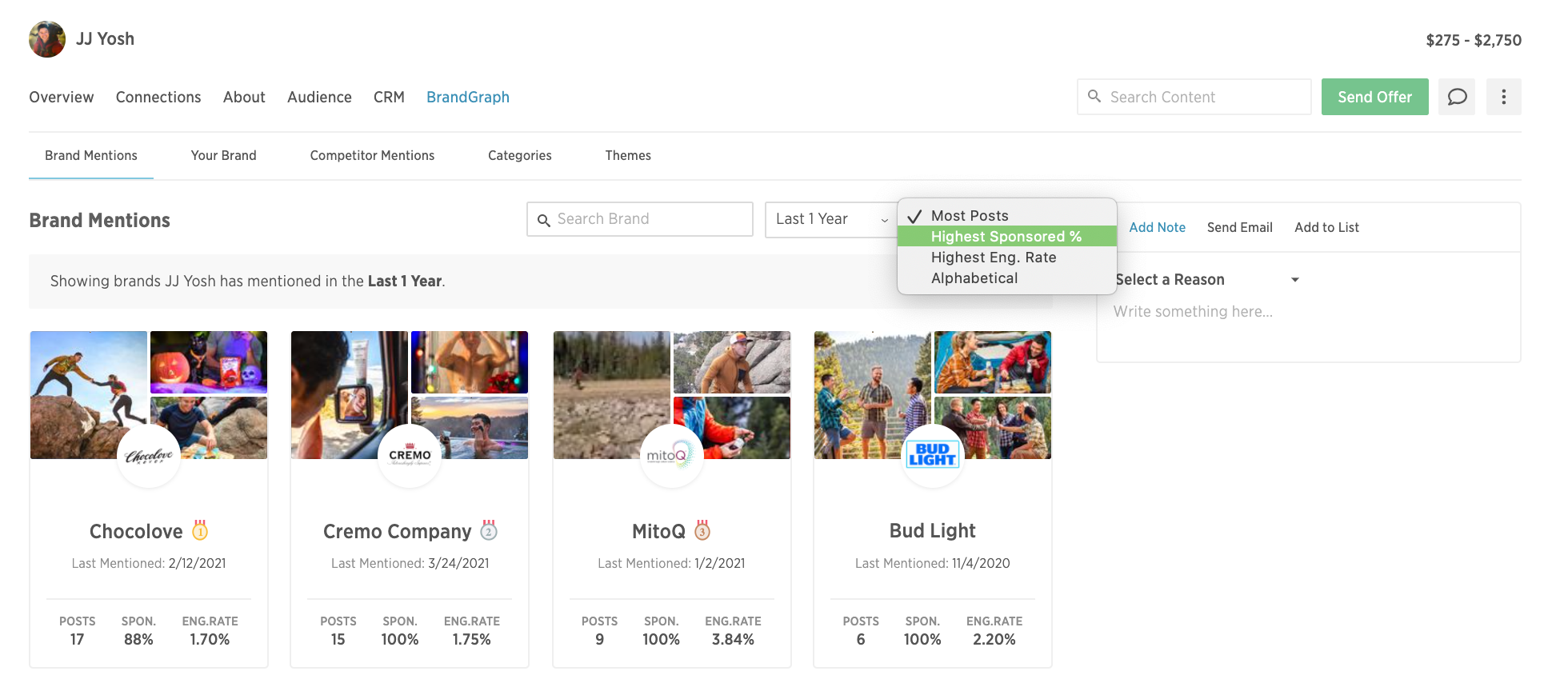 Clicking on any of the Brands will give you additional insights for that Brand, including Number of Posts, Engagement Rate by Followers, and percentage of Sponsored posts.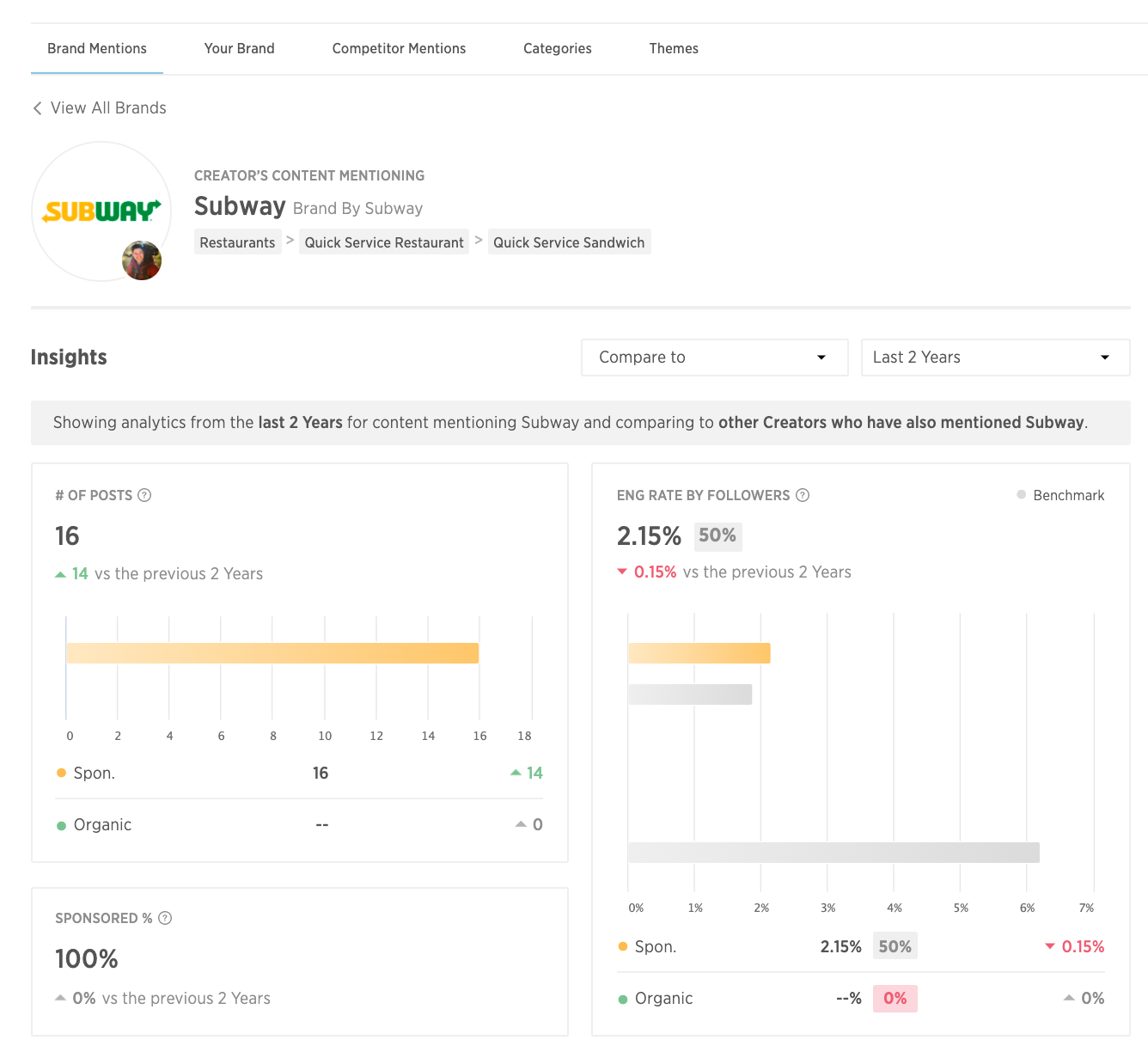 Brand Selector
Once you have set your Brand using the Brand Selector at the top right, you'll then be able to see any posts the Creator has published mentioning your Brand, as well as your Competitors.

Your Brand
This tab provides insights into the content this Creator has posted that mentions your Brand, including Post Sentiment, percentage of Sponsored posts, Engagement rate by Followers, as well as number of Posts.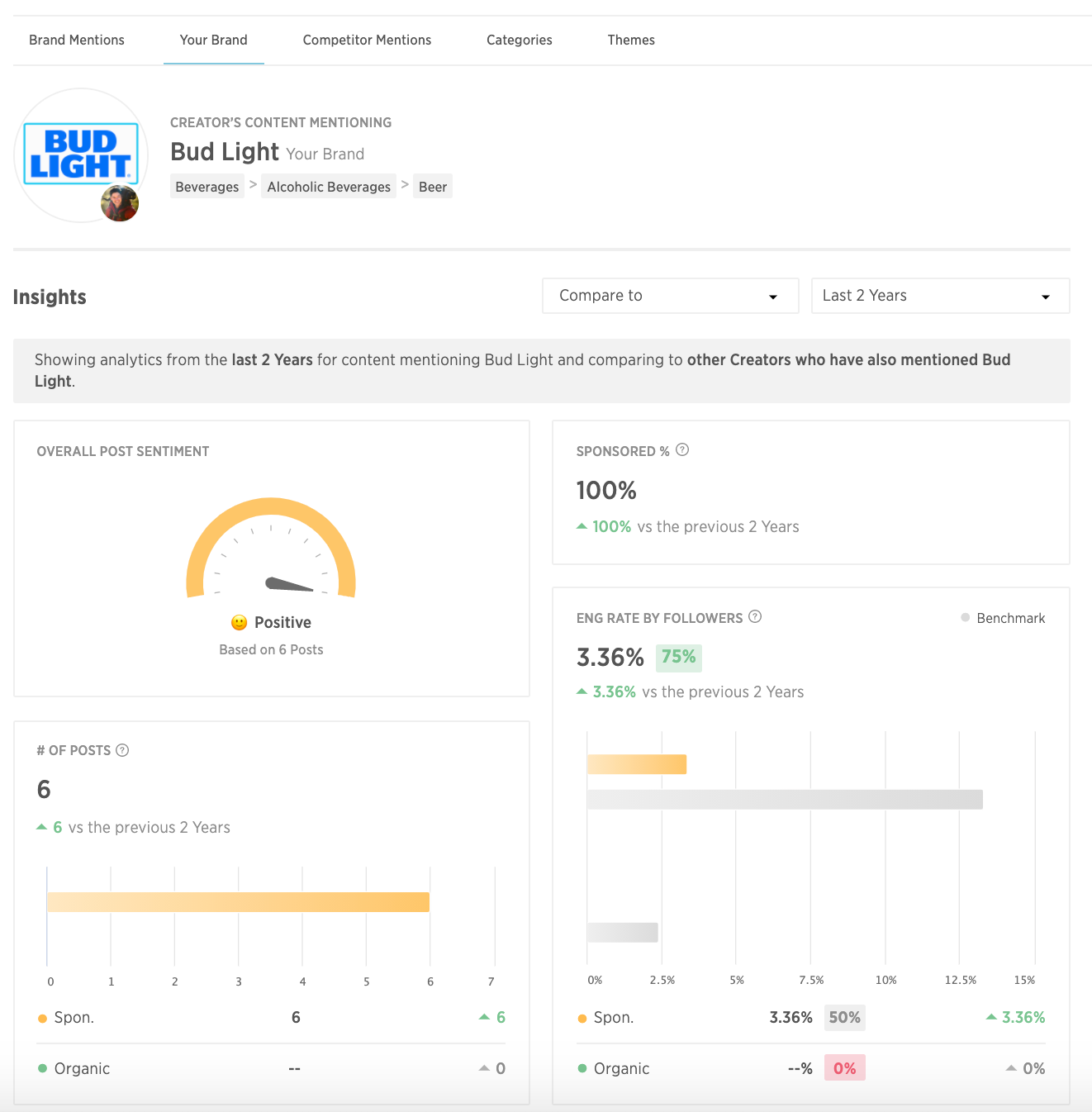 Competitor Mentions
This tab will give you an overview of any content that mentions your competitors.
Categories
This tab gives you an overview of the different Categories that the Creator mentions the most. This is useful when trying to identify if a Creator is a good fit for your Brand category.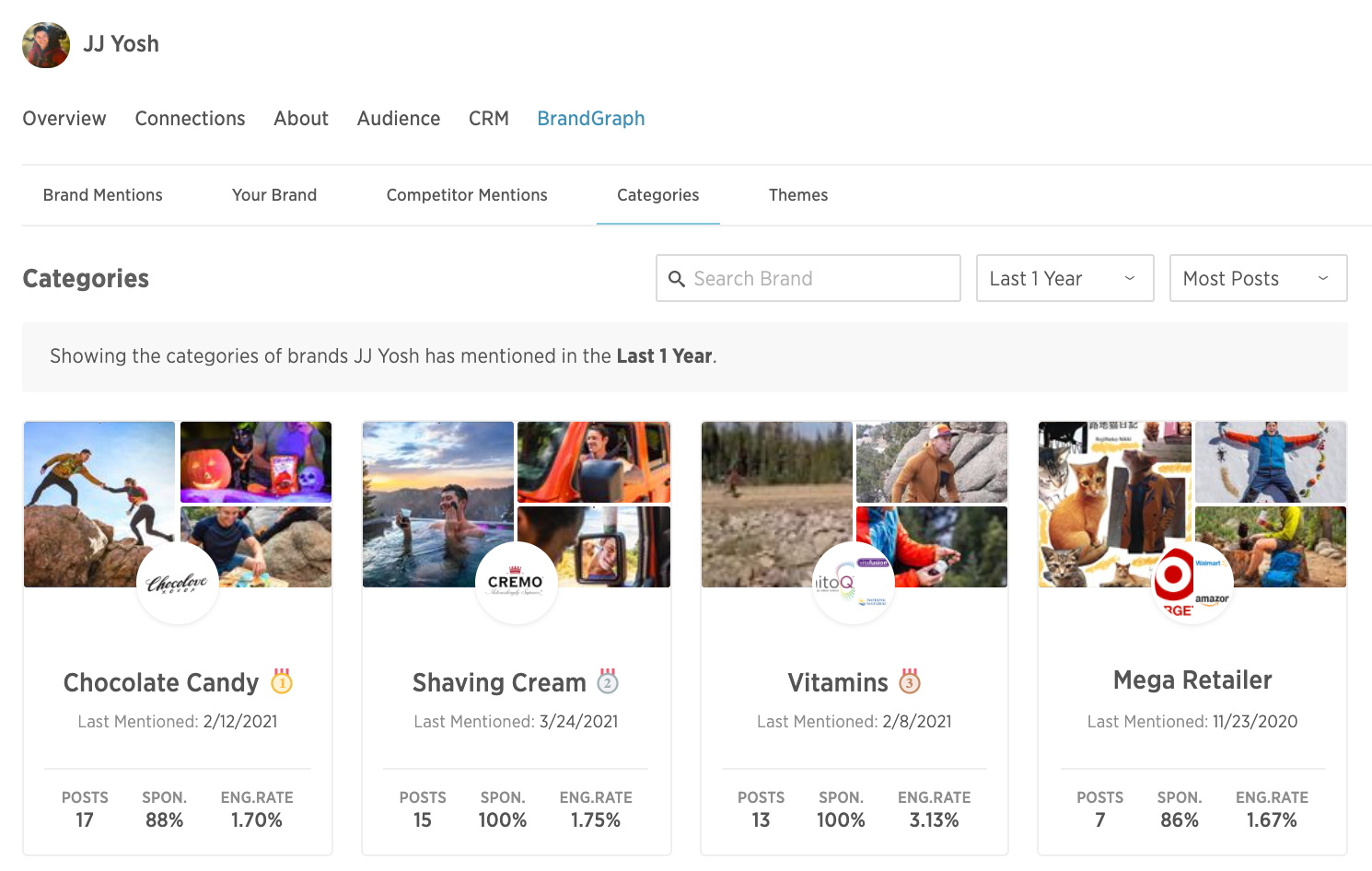 Themes
This tab gives an overview of the different Themes the Creator mentions the most. This is useful when trying to identify if a Creator is a good fit for the overall theme of your campaign.