There are two main ways to locate Influencers in the system:
Through Unity Search - which will pull up any Influencer who has already signed up and created a full account in the system.

Or through VizSearch - which is a content search tool, that will pull up live social media content from both Influencers who are already in the system (found in Unity Search), and also publicly Discovered Influencers who have not yet created an account in the system.
From either Search section, you are able to click an Influencer name to view a Flyout Profile, which acts as a "preview profile" of the Influencer's Full Profile.
Table of Contents
---
Publicly Discovered Flyout Profiles
---
Publicly Discovered Flyout Profiles
When you use VizSearch to locate Influencer content, you will be able to see a combination of Influencers who have signed up for an account in the system, and also publicly discovered influencers, who have not yet signed up for an account. Self-signed up Influencers will have Flyout Profiles as described in the aforementioned section. Publicly Discovered Influencers will also have Flyout Profiles, however, the information displayed will be slightly different since it is only pulling what is publicly available from their public social media accounts. Let's go over Discovered Influencer Flyout Profiles below!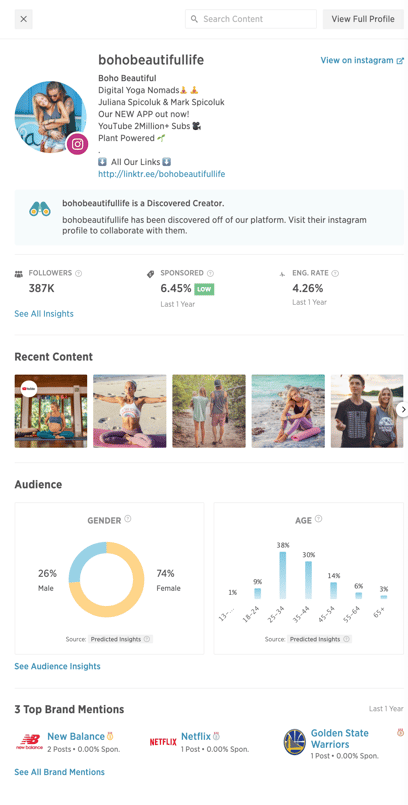 Top Overview
The top-most section of a Discovered Influencer's Flyout Profile will list some helpful metrics, and also note that they are Discovered. If they have a publicly listed email address, you will also see this noted here.
If you are unsure what a particular metric means, simply hover your cursor over the question mark symbol to view a tool tip that will provide you with more detail. You can also click See All Insights to be taken to a Full Profile page that will provide additional metrics for this social media profile.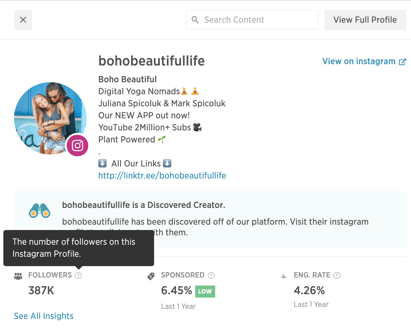 Recent Content
This section will display the Influencer's most recently posted social media content for the social media profile type you are viewing.

If you would like to view a particular piece of content in more detail, simply click on the thumbnail of the content and a pop up window will appear, providing a preview of what that content looks like in full. If after viewing the content you find that you would also like to view the full piece of content as it appears on their social media channel, simply click the link at the bottom of their caption.
You will also notice one of two badges for each piece of content. Organic Content, as shown below, has been programmatically detected by the system as being a non-sponsored (ie: organically posted) piece of content.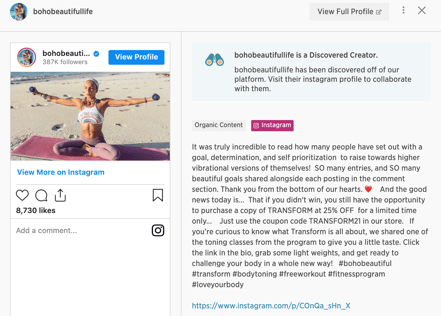 Whereas Sponsored Content, as shown below, as shown below, has been programmatically detected by the system as potentially including sponsorship language.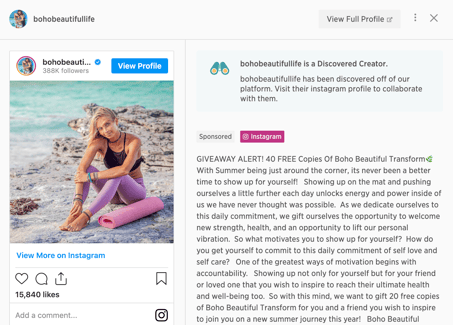 Audience
The Audience section will provide graphical data of the metrics gathered from the Discovered Influencer's publicly available social media accounts. Hovering your mouse over the question mark icons next to each metric will provide a breakdown of how each metric is gathered.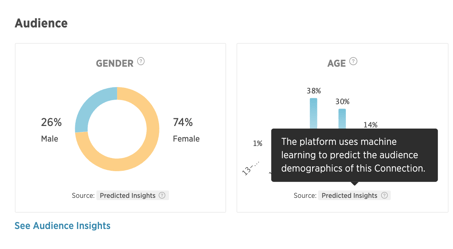 3 Top Brand Mentions
This section uses integration with BrandGraph to display the top three brands this Influencer has mentioned within their content. If you would like to see a full list of mentioned brands, or compare to your own brand, simply click See All Brand Mentions to be taken to the Full Profile view for this Influencer.