You are able to click any influencer name in the system to view a flyout profile, which acts as a preview profile of the influencer's full profile.
Table of Contents
---
---
In-Platform Flyout Profiles
Influencers who have already signed up to the system and authorized analytical connection to their social media accounts will have a flyout profiles that contain data and metrics.
After clicking on an in-system influencer's name, you will see their flyout profile.

Top Overview
The top-most section of an influencer's flyout profile will list some helpful metrics. If you are unsure what a particular metric means, simply hover your cursor over the question mark symbol to view a tooltip that will provide you with more detail.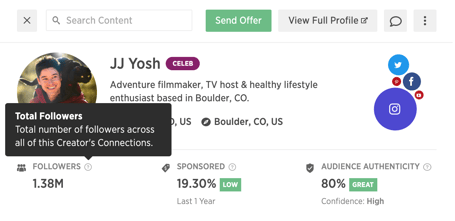 You are also able to take several actions from the top of an influencer's flyout profile, such as searching their content, sending an offer, viewing their full profile (which will provide even more details), or starting a chat.
Additionally, clicking the icon will provide you with a full list of actions you can take.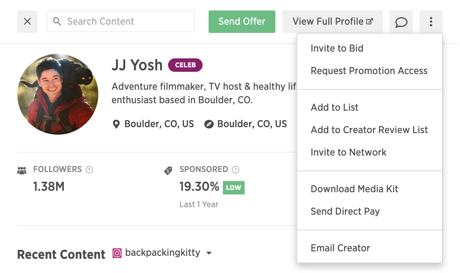 Clicking the icon to the left of the three dots will open a chat flyout, where you can start a conversation with the influencer.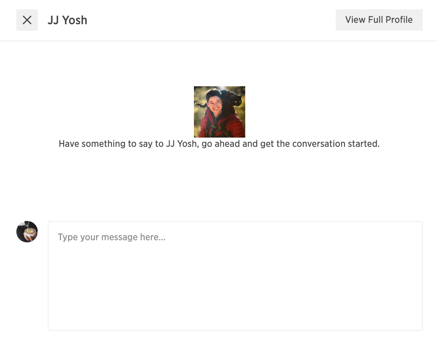 To search the influencer's social media account from their flyout profile, simply type a keyword in the search content bar in the upper left corner and then hit the Enter key on your keyboard to start a search.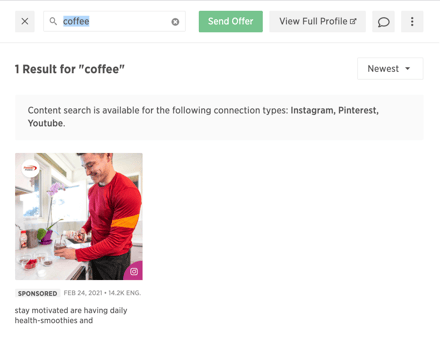 Recent Content
This section will display the influencer's most recently posted social media content.
If an influencer has authorized connection to more than one social media account in the system, you can click the arrow icon to select a different social media account and view the recent content.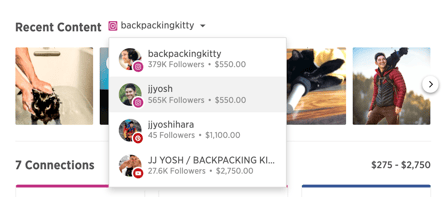 If you would like to view a particular piece of content in more detail, simply click on the thumbnail of the content and a pop-up window will appear, providing a preview of what that content looks like in full. If after viewing the content you find that you would also like to view the full piece of content as it appears on their social media channel, simply click the link at the bottom of their caption.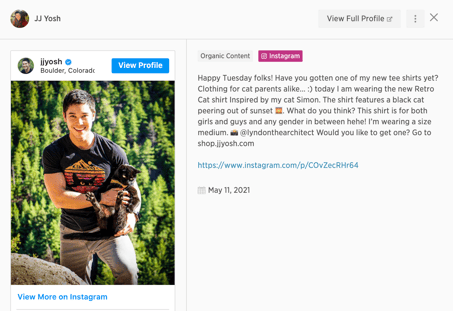 Connections
This section will display any and all social media profiles the influencer has connected to their account in the system.
You can view more by clicking the arrow bubbles to the right and left of the displayed connections. Alternatively, you can click See All Connections where you will be taken to the full profile view for this influencer.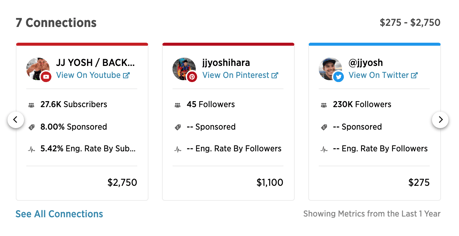 For Instagram connections, you may notice a black badge labeled business. When you see this badge, it means that the influencer's Instagram is set up as a business or creator account, rather than a personal account.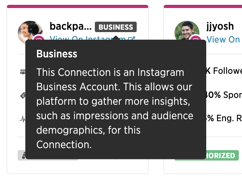 Additionally, for both Instagram and Facebook connections, you will also notice one of two badges listed at the bottom of the connection. These badges are used to alert marketers if the influencer's content is able to be promoted directly in the platform using our Promoted Posts feature.

Supported -

The c

o

n

n

e

c

t

i

o

n

type supports promoting

c

o

n

tent, but the influencer

has not yet taken the steps in their a

c

c

o

unt to grant a

c

c

ess for Promoted Posts.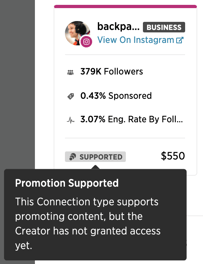 Authorized - The influencer has authorized Promoted Posts access for this connection.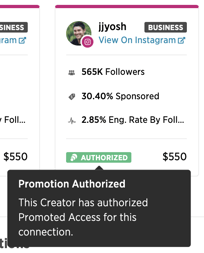 If the original authorization the influencer provided to the system for their social media profile has expired, the connection will show at the end of the list and be labeled as expired in red. This means that the influencer needs to log in to their account in the system to reauthorize permission for gathering metrics from their social media account to the system.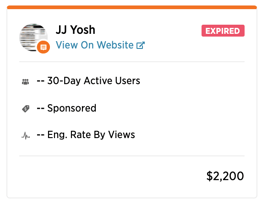 3 Top Brand Mentions
This section uses integration with BrandGraph to display the top three brands this influencer has mentioned within their content.
If you would like to see a full list of mentioned brands or compare to your own brand, simply click See All Brand Mentions to be taken to the full profile view for this influencer.

Contact
Important: Not all influencers will have a phone number and mailing address provided, as this information is self-reported.
This section will display the email address, phone number and mailing address the influencer has added to their account.
About
The about section will display the self-reported data the influencer has reported about themselves within their account in the system. This can help give you a better idea of who they are and what they do so that you can determine if they are a good fit for your target demographic.
To see even more details, click Read More About the Creator to be taken to their full profile view.

Audience
The audience section will provide graphical data of the metrics gathered from the influencer's actively connected social media connections.
Hovering your mouse over the question mark icons next to each metric will provide a breakdown of how each metric is gathered.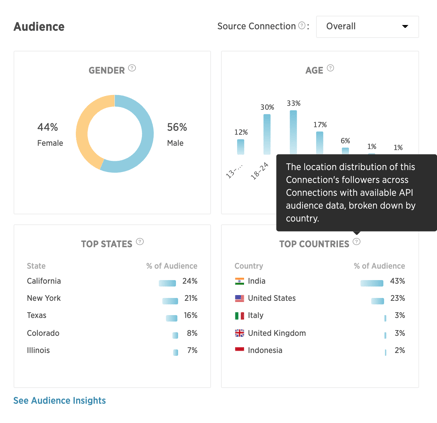 The default view will be for the totals gathered from all social media connections (Overall), however, you can click the dropdown to select a specific social media connection to view its individual insights.

Alternatively, you can click See Audience Insights at the bottom of the section to be taken to their full profile view.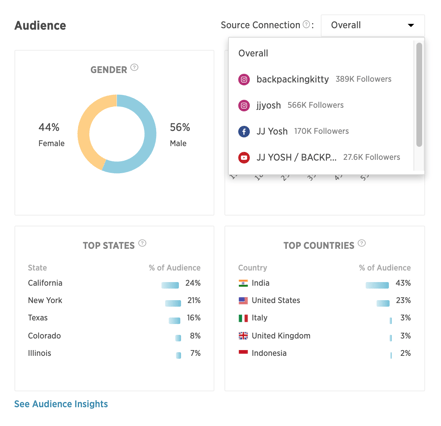 Notes
The notes section is a great place for you and your team to share comments about an influencer. Anything you include here will only be visible to you and your team.
Please note: Influencers will not see notes that you write about them.
To add a note, simply click the arrow icon to choose a selection.
Then type any additional comments you want to include and click Add Note to submit your note.