Marketers - Filtering Your Campaigns
From your campaign dashboard, you are able to filter your campaigns for easier navigation. Campaigns can be filtered by both active and archived, or you can view both types at the same time.
How to Filter
From the navigation bar on your left-hand side, click Unity Workflow.

Now that you are in your campaign dashboard, click the Status Filter icon.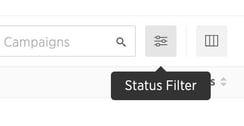 In the selection window that pops up, select the view you would like to have for your campaigns.