Connecting Your Social Media Accounts
Influencers - Disconnecting A Connection
In the event you unintentionally add or need to remove a Connection from the platform please follow the steps below to disconnect a Connection:
1. Select your Avatar at the top of your account and then select Connections.
2. Once on the Connections Dashboard, hover over the Connection you would like to disconnect and click View Details.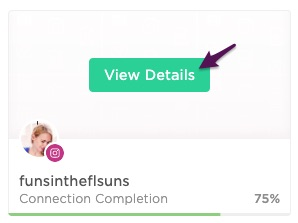 3. Scroll down to the bottom of the Connection Overview page and select Disconnect.

4. From there the page should refresh and your Connection will be removed.