On Instagram you will have the option to turn your personal Instagram into a creator account. Per Instagram, creator Instagram accounts allow you to access features that make it easier to control your online presence, understand your growth and manage your messages. If your personal account is private, completing these steps will make it public. Note that all pending follow requests will be automatically accepted when you go public.
In order to participate in promoted posts campaigns in the platform, you will need to have your Instagram connected as an Instagram creator account. Please note, that if you have already set up your Instagram as a Business Instagram, you do not need to switch it to a creator Instagram. This article will walk you through switching your account from a personal Instagram to an Instagram creator account.
Log into your Instagram from your mobile device.
Navigate to your settings by selecting the drop-down.
From here select, Settings in the lower right-hand corner.
Select Account and then select Switch to Professional Account.
You will then be prompted to choose which Instagram account type best describes you. You will be provided with two options; creator or Business. Below you will find a listing of the differences between the two:
creator: Best for public figures, content producers, artists and influencers.
Flexible Profile Controls

You can choose to hide or display category info and contact buttons on your profile.

Simplified Messaging

A new inbox makes it easier to manage message request and connect with fans.

More Growth Tools

Get more advanced insights and reach more people with promotions.
Business: Best for retailers, local businesses, brands, organizations and service providers.
Learn about your followers

Get insights about your followers and see how your posts are performing

Reach Your Customers

Create promotions on Instagram to reach more customers and build your business.

Get New Contact Options

Add a contact button to your profile to make it easier for people to get in touch with you.
Select creator and then Next.
You will then need to choose a category that best describes your Instagram account. For example, are you an Artist, Blogger, Gamer or Musician? For this tutorial we are going to choose Blogger. Once you have selected your category, click Next.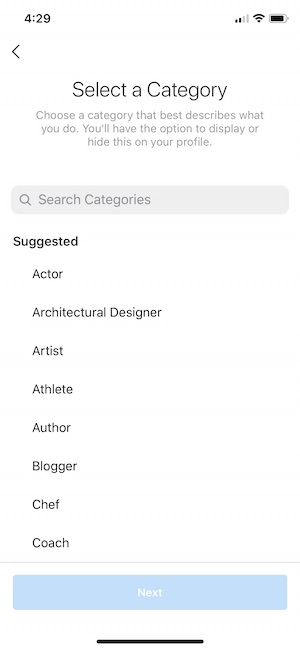 Now you will need to verify your contact information and choose your profile options. Verify that your email is correct and if you choose to do so, you can add your phone number. Once you have verified this information, click Next. On your profile you can choose to display your category and/or your contact information. You must, however, provide at least one of these contact options even if you choose not to display them. Select Done when you are finished.
Next, you will need to connect your Facebook Page to your Instagram account. Choose the Facebook Page you would like to connect and then select Next.
Please note: If you do not have a Facebook page, you will need to create one.
You have now successfully set up your creator Instagram account.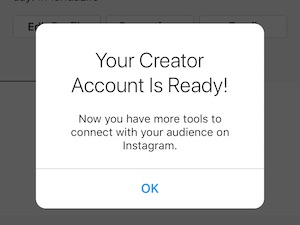 If you have not already added your Instagram to your Account in the platform and set up promoted posts, these articles will walk you through this process:
Adding You Instagram To The Platform