After your Campaigns have produced content, you will be able to promote individual pieces of content using Promoted Posts. Each piece of content can be set to match specific targeting or you can create one target set for multiple pieces of content.
1. Select the name of the Campaign where you have completed Offers with promotable content.
2. Once on the Campaign Dashboard, navigate to your Completed tab.
3. On the Completed tab you will see all of the content that has been created and published for this Campaign. The green promotable icon

next to the Creator's name indicates that the Creator has given access to promote their content on their behalf. If you do not see this icon, you can request access from the Creator on their Profile.

4. Once you have selected the piece of content you would like to promote, select the

icon and then click Promote Post.
5. From here, you will need to create your Promotion Campaign. To do this select, Create a new Campaign.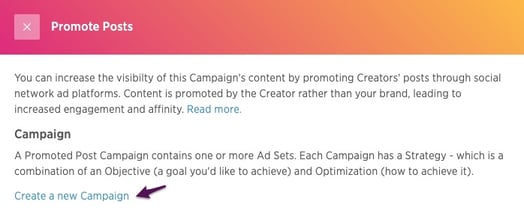 6. When setting up your Campaign, there are a few elements you will need to provide. Below you will find a brief description of each of these elements.
New Campaign Name - This will be the name used to identify this particular Campaign. We would suggest you use the originating Campaign name under your Unity Workflow tab.
New Campaign Strategy- Campaign Strategies are similar to the KPI's for your Campaign. You can choose between Traffic, Engagements or Video Views (if applicable).

Traffic can be broken down by Impressions, Link Clicks or Daily Unique Reach.
Engagement can be broken down by Post Engagement or Daily Unique Reach.
Video Views

New Ad Set Name - Ad Sets contain all of the details for your Campaign. Budget, targeting, and placement (Facebook or Instagram) will all be set at the Ad Set level. We would suggest using the same name as your Ad Campaign and then adding a few details such as the placement or the strategy.
After you have finished adding your elements, select Continue.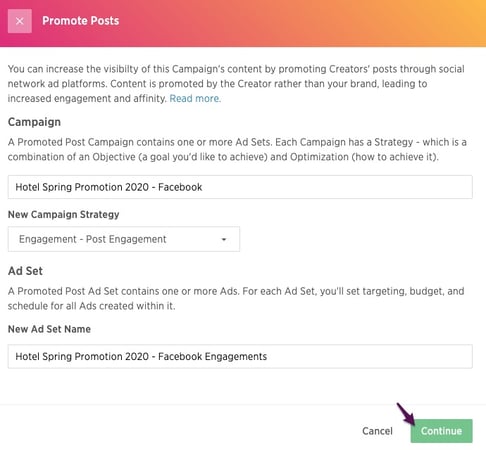 7. You will now be taken to the Promoted Posts tab on your left-hand navigation, where you will finish Creating your Campaign. Verify that your elements are correct and then select Next: Configure Ad Set.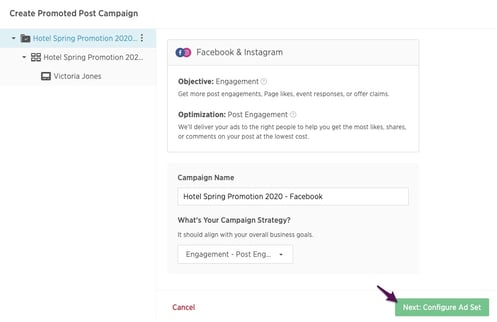 8. On the next page, you will need to set your Budget, Dates and Audience.
Budget - Depending on the nature of your Ad Campaigns, we recommend a minimum budget of $2,500 for each individual Ad Set. While splitting budgets across several Ad Campaigns can deliver better rates per result, doing so with small budgets exhausts resources and creates campaigns with extremely small payouts, meaning there is a chance they could perform erratically.
Dates - When setting your Start and End Dates, we recommend giving your Campaign at least two weeks from the Start Date. Due to the nature of programmatic bidding platforms, any factor that narrows the opportunity for an Ad to be delivered makes the placement of that ad more expensive. This includes limited flight times, which is why we recommend a two week minimum run time for your ad sets. Ideally 4+ weeks would be enough time to deliver the best, most efficient results. Please note, Ads will run 6 AM to 11 PM in the viewer's time zone.
Audience - When setting your Audience, you can be as granular as you would like to ensure you are targeting the correct Audience for your posts. Our Audience Size graph in the top right-hand corner will alert you if your search is to narrow or too broad. Below you will find a description of each of the targeting sets.

Locations - When setting your location you must include at least one geographic target. Enter your location in the box provided and then select it from the auto-complete dropdown. You also have the option to exclude locations from your audience targeting.
Age - Your Audience age is a range of ages. You can only select one age range for each Audience.
Gender - You can choose the gender of your Audience or leave your Audience set to All.
Detailed Targeting - In the Detailed Targeting section you can include or exclude Demographics, Interest and Behaviors of the Audience. For example you may want to include married people and exclude people who are not.
Once you have finished adding your Campaign Details, select Next Configure Ad.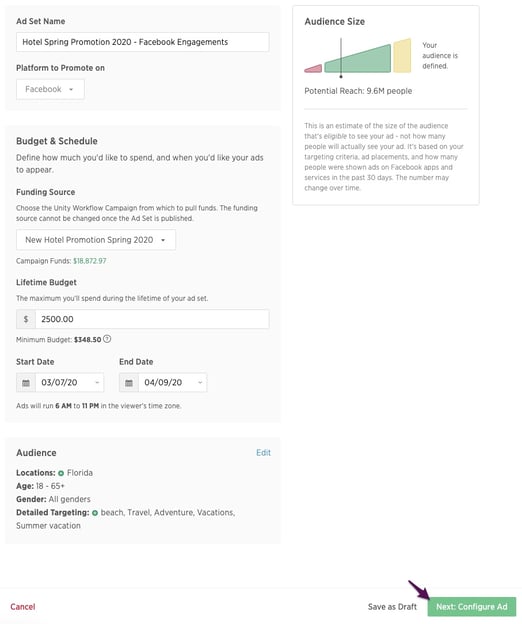 9. The final step in setting up your Ad Campaign is to verify the content that you would like to Promote is correct. On Ad page, you will be provided with a preview of your Ad. You can change the Ad Name, however, we would recommend leaving this as it's currently listed for reporting purposes. Once everything looks correct, select Promote.