Once you have created a campaign in the system, you will then need to add a project or set of projects to it. In this article, we will walk you through all of the steps needed to begin activating influencer collaborations in the system: creating a project, deliverable(s), and unit(s).
Table of Contents
---
Filling Out Your Project Details
---
Creating A project
From your marketer account, locate and click on the Unity Workflow page listed in your left-hand navigation.
Once you are on the Unity Workflow page, locate the campaign you would like to create a project for and then click on the campaign name.

In this example, the campaign name is "2021 campaign".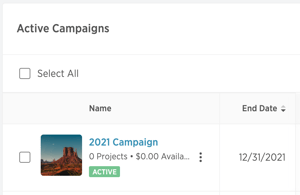 From within your campaign, click Create Project.
This can be done from either from the gray button in the top right corner, or the green button in the center of the page.

The green button will only be displayed if there are no other projects yet within this campaign.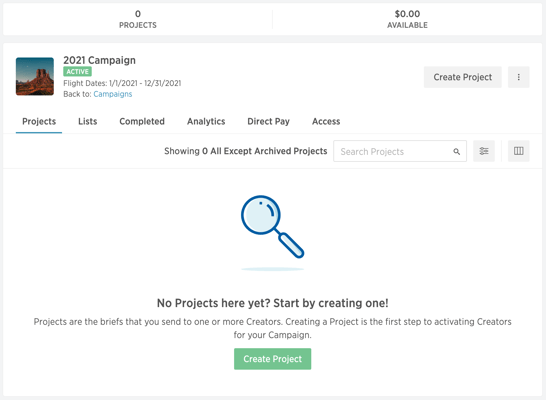 Now it is time to fill out all the information needed for your project. Proceed to Step 2 below to get started.
Filling Out Your project Details
After you have selected Create Project, a flyout page will appear for you to begin filling out your project details. On the details tab, enter the following:
Name and Image
Your project name will be visible to influencers, and should provide them with a general idea of what the overall project will entail. The project image will be the avatar presented to influencers and should help symbolize your brand or what the project is about.
Please note: Minimum image dimensions are 500x, and supported formats are JPG/PNG.
To upload your image c

l

i

ck,

Add an Image

.

A pop-up will appear where you can choose a file from your computer to upload.
From here, you can adjust the image and then click Crop Image to set the size. Once your image has been uploaded, if you decide that you would like to change your image, click Change Image.
Project Brief
The project brief should provide a general overview of the goals you have for your project. This information can include creative direction, influencer do's/don'ts, legal information, or any other details that are important for influencers to be aware of.
Pro tip: Please make sure that if you are copying and pasting verbiage from another document that you edit your formatting once it has been pasted. If you do not, it may affect the appearance of your project brief when it is presented to influencers.
Additional Files
This is an optional section, which you are not required to use, however if you would like you may upload any documents you feel necessary here. Some examples of what you could upload are Parental Consent Forms, Style Guides, or Additional Guidelines.
Open Bidding
When creating your project, you will be able to choose the way in which you want to send and receive offers. An offer is an invitation to an influencer to participate in your project.
If you want any and all influencers who have signed up for accounts in the platform to see your project and be able to submit bids, you can enable open bidding to begin as soon as your project is approved.
If you have specific influencers in mind, you can leave open bidding unchecked and instead send direct offers to only certain influencers. You may also send direct offers in addition to enabling open bidding.
Targeting Set
If you have opted to use open bidding but would like to narrow the pool of influencers who are able to see your project and submit bids, you can use a targeting set.
A targeting set is created from a saved search in Discover. All filters from the saved search, except keywords, will be used to determine which influencers can see and bid on your project.

After you have finished filling out your project details, click

Next: Set Up Deliverables

.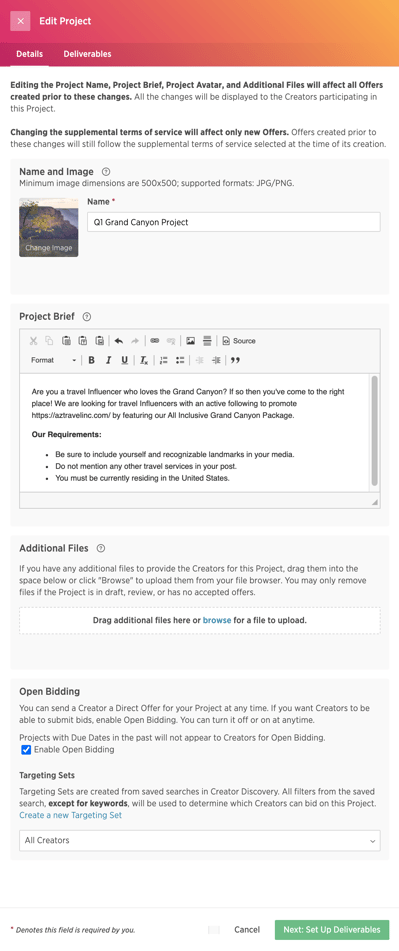 Setting Up Your Deliverables
When creating your project, you will need to set up one or more deliverables within it. A deliverable can consist of one or more units (social media posts), and each deliverable will have its own payout associated with it.
To get started, click the menu icon next to the deliverable and select Edit

or

Clone

After you have created your first deliverable, you can use the clone feature if you would like the next deliverable to include all of the same units and details.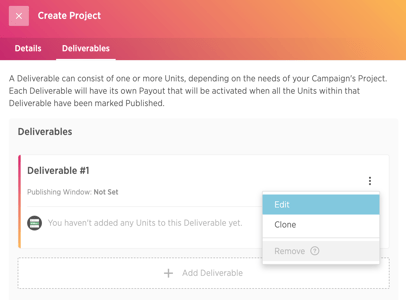 Deliverable Name
The first thing you will want to do will be to name the deliverable.
Pro tip: We recommend entering a name that will be easy to distinguish for both you and influencers, perhaps broken down by Publish month such as "June deliverable".
Units
After you have created a deliverable(s), you will need to add one or more units (social media posts) to each deliverable, and you can customize them as needed.
Click Add a Unit to get started.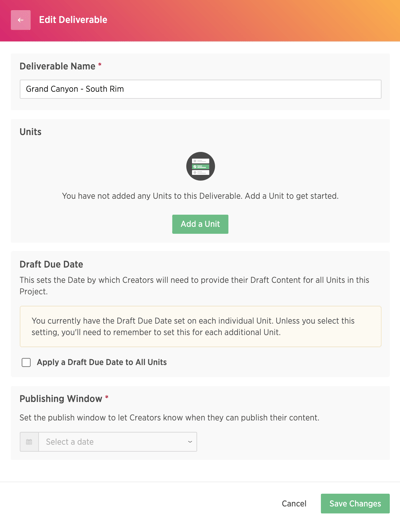 From the Add Unit flyout, select which social media platform you would like influencers to use for their post from the list provided. Any and all social media Unit types you select here will be required by influencers to complete.
Pro tip: One Unit = one social post.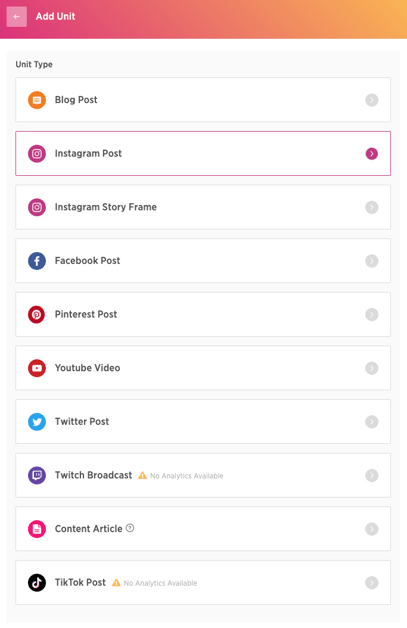 Unit Details
The unit name will default to type and number (Instagram Post 1). You can change the name of the unit if you would like.
Once the name is set, be sure to fill out the post description (how you want influencers to lay out their post), any requirements you would like to add (eg: "Do not include any other products or brands within your media or caption"), and then select a draft due date. You will set the publishing date in the next section.
Once you are finished, click Next: Add Elements.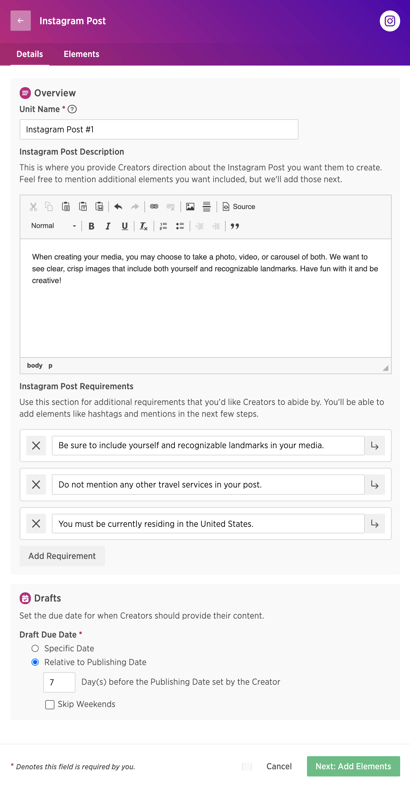 Unit Elements
Element is the system term for hashtags, mentions, links, etc. that you would like influencers to include in their posts.
You can select to make elements required or optional.
Additionally, you can choose to require influencers to post hashtags and mentions that are case sensitive. If you decide to leave this option blank, the system will not check for case sensitivity.
For more details on the different types of Unit Elements and how to add them, please visit the following articles:
Once you are finished, click Save Changes.
Draft Due Date and Publishing Window
If you have already set a draft due date within your unit(s), you can move on to setting a publishing window.
Alternatively, to set up your draft due dates in bulk, click Apply draft due date to All Units.
You will then be able to choose a specific date for the drafts or a date that is relative to the publishing window.
Pro tip: We recommend giving influencers at least a week or two between the draft due date and publishing window, especially if you will be shipping them product(s) to use in their content.
To set your publishing window, click Select a date and navigate within the calendar to set your window.

Publishing dates are set at the project level as a publishing window. The publishing window will allow influencers to choose a specific date within the specified window to post their content.
You can find more details here regarding setting your draft due dates and publishing dates.

Once you have completed setting up your draft due dates and publishing window, click Save Changes.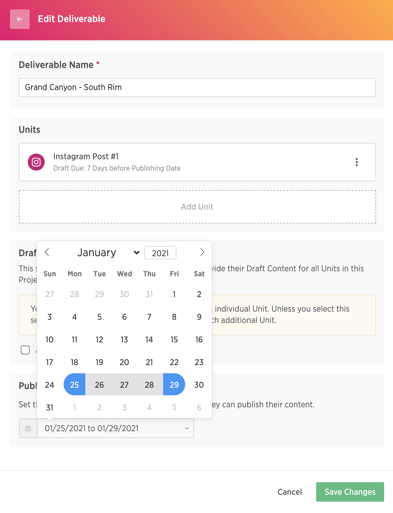 Additional Units
After you have added your first unit you can edit, add, remove, clone, or keep your units as independent/dependent of each other.
You may want to use dependent units if you want to ensure posts from an influencer follow a specific order. For example, if you want to make sure that Post A is posted before Post B, you would make Post B dependent on Post A. This means the influencer cannot post the content from Post B before they post the content for Post A.
If you choose to make independent units, influencers will have the freedom to post content in any order that they choose (in accordance with the publish date they select from the publishing window).
Finalizing Your project
Once you have finished setting up your project details, deliverable(s), unit(s), draft due dates and publishing dates, you are ready to create your project.
Click Create project to finish set-up.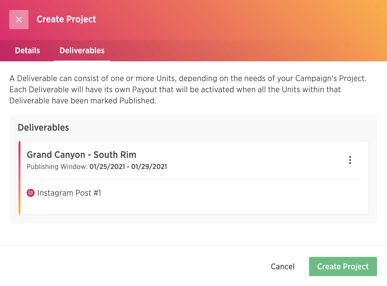 If you have chosen to use open bidding, influencers will now see your project in their dashboards and begin submitting bids.

To monitor bids received, navigate to the offers tab of your project > Bids on the right hand side.

If you have decided to instead send offers directly to influencers, the following article will help guide you through that process: Marketers - Creating And Sending Direct Offers
If you are not yet ready to complete your project, you can also select Cancel, or click the X at the top left of the flyout. A pop-up will appear where you can select Yes, Save as Draft and come back to complete your project later.