Once a Partner Account has been created, you will need to assign Users access to the Partner Admin.
There are three types of Partner Admin permissions that can be granted to Users:
Administrator- A User with full access to Finance, Customer Service, Revenue Share, Rate Cards, and all Operator functionality.
Payments Administrator- A User with access to enough organizational finance information to be able to approve and manage Payments. All Operator functionality is included.
Operator- A User that can manage Accounts, add users to accounts, invite people to Accounts, and switch to Accounts.
For a best practice, we typically suggest making only a single User a full Administrator. All other Users should be Operators. This will help to ensure that all funds are run through a single User and that Campaign Funds are distributed correctly.
Granting Users Admin Access
1. Log into your Partner Admin Account and select Administrators from the left-hand navigation.
2. Once on the Administrator page, you will be able to see all Users who have Admin Access. You can also view what level of access they have from this page. To add a new Administrator, select Add Administrator in the upper right-hand corner.

3. A pop-up will appear where you can enter the Name and Email of the User. You will also be able to select the level of access you would wish to grant this particular User. Once you have provided all of the Users information and select their User permission, select Send Invitation.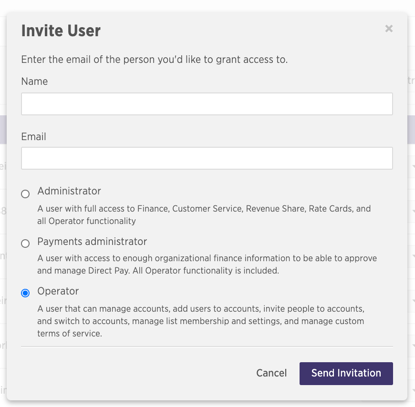 4. The User will be sent an email asking them to verify their Partner Admin Account. After they have verified their Account they will have Partner Admin access.
If you are experiencing any issues creating Partner Admins, please reach out to your Account Representative.