After you have created your Marketer account(s), you can begin setting up a Campaign. The flow for Campaign creation in the system is as follows:
First, create a Campaign.
Next, build a Project (or a set of Projects, depending on your need) within your Campaign.

From within your Project, you will then set up a Deliverable (or set of Deliverables if you would like to use Ambassadorships with your Influencers) within your Project.
And then from within your Deliverable(s) you will build out Unit(s), which are the type of social media posts you want Influencers to complete.
You are free to set up your Campaign however you would like, but if you are unsure of where to begin, the following example could be a helpful way to go: Picture your Campaign as your yearlong overarching goal. The Projects you Create within your Campaign could be for each Quarter or seasonal promotion in the year. Then after you set up your Deliverable(s) (the containers for your Units), the Units within your Deliverable will be for each different type of social post you want Influencers to publish.
In this article, we will walk through the first step of this process: creating a Campaign in the system.
Creating a Campaign
1. From your Marketer account, locate and click on the Unity Workflow page listed in your left-hand navigation.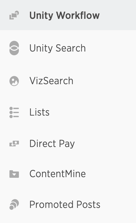 2. In the upper right corner of the Unity Workflow page, click Create Campaign.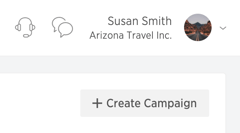 3. A flyout will open where you can begin building your Campaign. From here, give your Campaign a name and image. You will also want to set your Campaign Budget (optional, but recommended to help track spending) and flight dates for it's duration.
A few things to keep in mind:
Your Campaign will not be visible to Influencers and will serve as an organizational tool for you to separate your different initiatives. Your Project(s), however, (which you will create later) will be visible to Influencers.

If you do not assign a budget during Campaign creation, you will need to transfer funds to your Campaign before you are able to send Offers.

Benchmark Goals are for internal tracking only. This will help you keep track of your goals for each specific Campaign.
4. Once you have filled out all of your Campaign information, click Create Campaign.
5. If you need to make any changes prior to adding Projects, you can edit your Campaign details. To do this, select the

icon next to your Campaign Name and click Edit Campaign.

6. The next step will be to start creating Projects for your Campaign so that you can begin activating Influencers.