Your Campaign Analytics tab is divided into four sections: Overview, Metrics Report, Platform Report, and Creator Report. In this article, we will go over how to locate and understand the data displayed on the Platform Report section of your Campaign Analytics tab.
Please note: The metrics shown in this article are for illustrative purposes only, and are generated from a test account. These examples do not in any way represent actual results.
Table of Contents
---
Locating Your Campaign Analytics
---
Locating Your Campaign Analytics
1. Log in to your Marketer account, and from there navigate to Unity Workflow (which should be the default homepage when you log in). From there, select the Campaign you would like to view by clicking on the
Campaign name.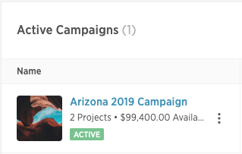 2. From within your Campaign, click the Analytics tab.

3. You will then be taken to the Campaign Analytics for the specific Campaign you've selected. From here, select Platform Report.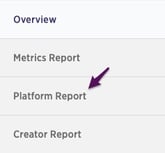 4. After you click Platform Report, a new area will open up showing you the subsets of the Platform Report section. You will need to click each subset individually in order to view the information on that particular section.
All Platform Reports will contain three main sections:
Platform Performance
Engagement Rate, Click-Through Rate, and TSV
Followers by Post
Please click each link listed below for more information on the different metrics gathered per social platform: