In order to start calculating a budget for your campaign, there are a number of factors to take into consideration that will affect the rates of the creator. This article will provide you with insights into how to accurately plan for your Creator activation.
Unity Search Rates
A good place to start is by using unity search and referencing the rates that creators have already provided in search, or the estimates that the system generates. By using saved communities, or searching for creators using filters to narrow down your results, you'll begin to see what creators could charge to participate in your campaign.
Average Rate vs. Platform Rate
Your search results will provide you with a range of creator rates, which have either been inputted by the individual creator, or calculated based on past work within the platform. The rate you see within the search results is an estimate based on all of their connected channels.

Clicking View Profile will show you a cost breakdown per platform.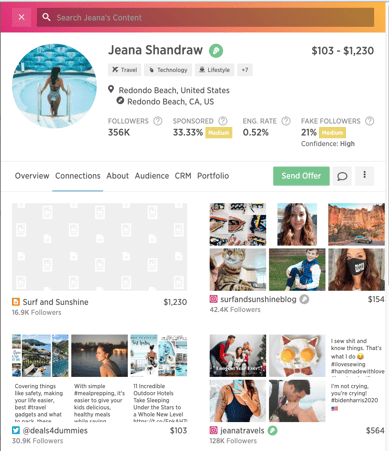 You can also sort by Highest Rate or Lowest Rate by clicking on the drop-down menu Best Match. You can choose either a total rate or by platform.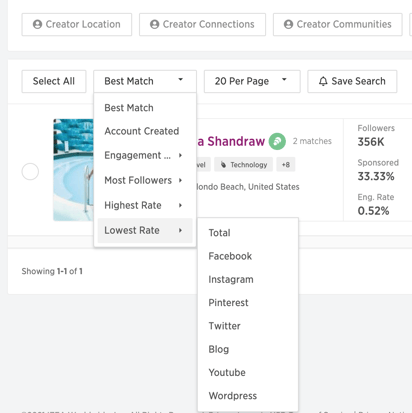 Open Bid
Within the platform, you have the option to Create a Project and turn on open bidding. This allows you to share the details of your campaign with a selection of potential creators and have them provide you with their asking rates. Providing specific details about your campaign requirements will better help the creators give you a more accurate estimate of what they would charge to partner with you.
Campaign Variables
Ultimately, pricing really does depend on the ask for the campaign and will fluctuate based on some variables. You may need to compensate them for some or all of the time and expenses they may incur. For example:
Project requirements - typically the more you require a creator to do for the campaign, the higher their asking rate will be. A few examples that might increase their rates:

Purchase and feature your product

Attend an in-person event

Travel to a near or far location

Develop and cook a recipe

Followers - The higher number of followers you require a creator to have on their account, the more likely they are to charge a higher rate. Consider working with a mix of micro and macro creators to make your budget go further.

Content - The type of content you are looking for. For example, do you want a photo or an edited video? Consider a mix of content types, including photos, carousel posts (multiple photos), videos, and stories for your campaign.

Niche Creators - If you are looking for a very specific type of creator in a small niche market, it is likely these creators will charge more than if you were looking for creators in a more general audience, for example, foodies or lifestyle.

Timing - If you have a last-minute campaign and are asking creators to create and post their content within a very short period of time, or if the timing of your campaign launch is around other significant holidays, such as Christmas or Valentine's day, their rates may increase.