In the platform, there are two kinds of Offers - Direct Offers and Open Bidding.
Direct Offers - Marketers search for connections with characteristics that match their project, then extend a "Direct Offer" to a connection(s) at a set asking price.
Open Bidding - Marketers set targeting on a project and all connections in the system that meet the targeting requirements will see the opportunity on their dashboard.
Start Bidding
Log into your Account and select the Project tab at the top of your creator dashboard to view your project dashboard.
On the project dashboard, you will see all of the projects that are available for open bidding. Each project will show the name of the project, the tasks, the due date, and the publishing window. Tasks are the individual posts that are required for the completion of that specific project. The number in the grey circle represents the number of posts required for each platform. In the example below, you will see that this project includes one Twitter post and one Instagram post.

If you would like to learn more about this project, click on the name of the project. From here you will be taken to the project details page. On this page, you can view the requirements for this project as well as the requirements for each individual task. To view these requirements for each task select, View Details.
A fly-out will appear where you can view all of the details and files for this specific task. Click anywhere on the screen to close the fly-out.
From here, select the connection you would like to use for the corresponding post. To do this, select the drop-down next to Choose Your Instagram Page and then select the connection you would like to use for this task.
Please note if you only have one social channel connected, then it will be auto-selected for you like in the example below.
After you have selected your connections, it is time so set your Payout amount. Enter the price you would like to be paid for this project in the box provided. Please keep in mind, this amount will be for the entire project and will be a bulk payment for all Tasks. Please make sure you have added the correct amount in the Payout section.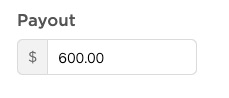 Next, read the Terms and Conditions for this offer and agree by clicking the checkbox next to I have read and agree to IZEA's Terms of Service and Privacy Notice.

Once all of your information has been filled out, click Submit Bid on the right-hand side of your screen.