After a Creator submits their draft content in the system, you will have the option to either request revisions, renegotiate, or accept their content by approving their draft. This article will walk you through approving Creator content in the system.
1. From your Campaign, locate and select your Project.

2. Once in your Project, you will be taken to the Outline tab, where you will see the list of Creators who have accepted Offers.

3. You can click the arrow to the left of the Creator's name to expand and view the Units in their Offer, or you can click the toggle at the top of the list to Expand All which will expand the Units for all Creators on this page.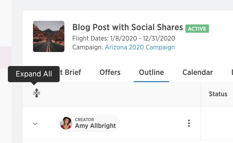 4. Units that have draft content awaiting your review will have a yellow status of Ready For Review. To review the Creator's draft, click on the name of the Unit to the left of the yellow status.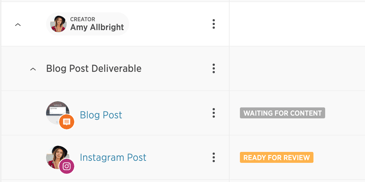 5. Alternatively, you can navigate to the Draft Review tab of your Project to see the list of all Units that are Ready For Review and select the Units from there.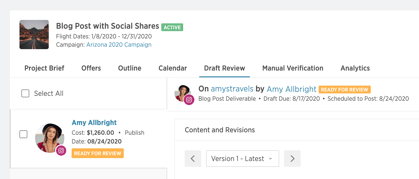 6. Once you have selected the Unit you wish to review, you will see the Creator's submitted draft content, including their media. If the Creator has submitted multiple pieces of media and you only want them to post one or certain pieces of media, please be sure to revise their offer now. This will ensure that the system will accept their live link when they go to submit it.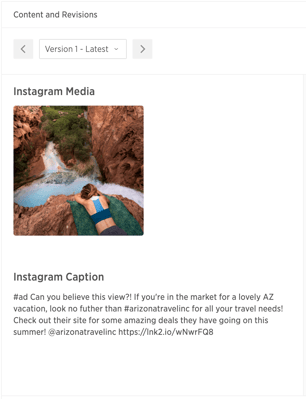 7. When reviewing the Creator's content, you can compare it to the requirements you laid out by toggling between the Details and Elements tabs below to make sure everything has been included in their post.

8. If everything looks correct select Approve Content and then click Next.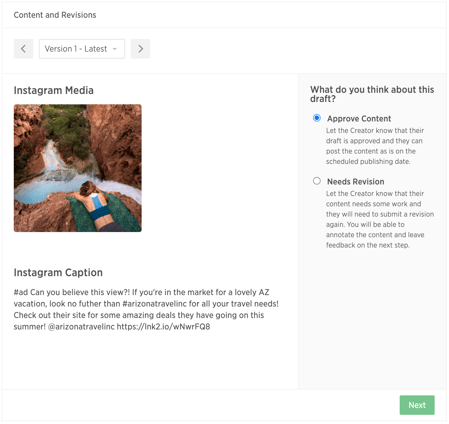 9. A window will appear confirming that you would like to approve the draft content, click Approve Content.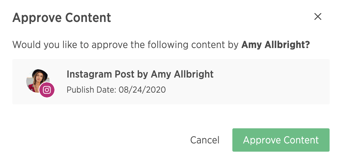 10. That's it! Once you have approved all Units within an Offer, the Unit statuses will change to Pending Creator Publish (which you can view from the Outline tab) and the Creators will just need to submit their live links/posted content to complete the workflow. If at that point you need to Manually Verify their submissions.