A UTM (Urchin Tracking Module) is a simple code that can be attached to any URL to generate Google Analytics data for Social Media Campaigns.
There are five basic fields that can be added to the end of a URL to track the progress of the Campaign across all online platforms. Using a combination of the five fields can help your team start to develop valuable insights about which promotional efforts are bringing traffic to your site, and will also allow you to see which types of Campaigns are working, and which may not be performing as expected.
When the UTM is clicked, it allows analytics software to track information, such as how visitors are coming to your site and if they're interacting with any content associated with a Campaign. This article will walk you through the best practices and steps of using the UTM builder in the system.
Best Practices
Use only the Campaign variables noted below that you need. The URL Builder has five specific fields you can use when building your UTM, but you do not need to use all. The below are the options you may include and what they help track.
Link URL - Your destination URL
Source - Used to show which site the visitors are coming from.
Medium - Used to show which marketing channels are bringing the visitor to your site. Examples include, but aren't limited to, email, social, or cost-per-click.
Campaign - Used to identify which Campaign the promotion is associated with.
Content - Used to identify the exact element on your ad or promotion that was clicked. This is often used for optimization purposes.
Using the UTM Builder
1. During your Project creation in the system, for the Unit(s) you want to add a UTM, click the Add Elements button and select Link.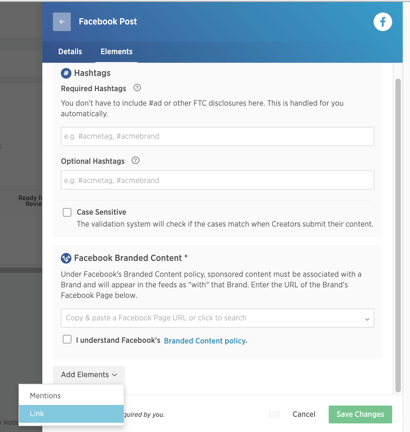 2. Once on the Link element page, to begin building and adding your UTM, click Switch to UTM Builder.

3. You can now begin adding the elements you wish to include in your UTM with the elements noted above. Begin by adding in your destination Link URL, and then select one of the variables in the grey boxes to add that to each of the fields. You'll see the Generated Tracking URL at the bottom. The variables you can select from are:
Creator - this variable is the Creator's Name and will be created when a Direct Offer is sent
Connection - this variable is the Creator's Connection and will be created when a Direct Offer is sent
Platform - this will auto-populate from the current unit you are creating (for example, Facebook)
Campaign - this will auto-populate from your Campaign Name
Project - this will auto-populate from your Project Name
Custom - use this if you'd like to add your own custom variable to the UTM tracker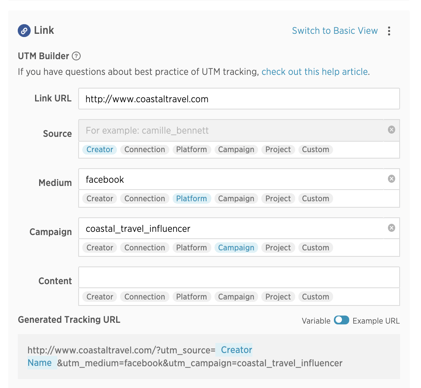 4. You can use the Variable/Example URL toggle to alternate between how the UTM will appear with the Creator variables, or see an example URL with those variables filled in.
When Variable toggle is on, the blue words indicate the fields that will be specific to each Creator Offer, in this example, Creator Name.

When Example URL toggle is on, those blue fields you saw in the example above with variable items will give you an example of how they will appear once the full UTM is generated.

5. Click Save Changes to finalize that Unit and add it to your Project.