Unit Elements can consist of hashtags, mentions, and links. It is important to include Elements in addition to your Project Brief and Post Description as they help Creators know what must be included in their post. You can add Elements as either required or optional for Creators to use. The following article will walk you through the different types of Pinterest Post Elements you can add and how to include them in your Units.
Table of Contents
---
---
Disclosure
Sponsorship disclosure is the FTC compliant way to let the public know that a post is Sponsored, and by whom. For Pinterest Posts, disclosure options are automatically included for Creators to choose from, you do not need to add sponsorship to your Elements for Pinterest Posts.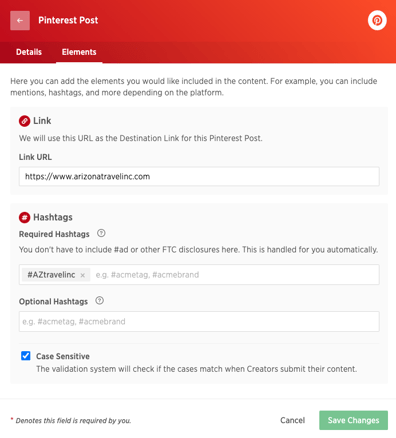 Link URL
The Destination Link URL for a Pinterest Post can be any website you would like Creator's Pins to link out to. This will be where viewers are directed when they tap or click on a Pin. To add a Destination Link, simply copy and paste or type in the website URL in the box provided.

Hashtags
Hashtags can either be required or optional for a Creator to use in their post. If you choose to make a hashtag required, the Creator must use this hashtag in their post. However, you have the option to make the hashtag case sensitive. This would require the Creator to post the hashtag exactly as you type it here in order to submit their content for approval. If you leave this blank, the Creator can choose to post the hashtag with a variation of upper and lower case letters.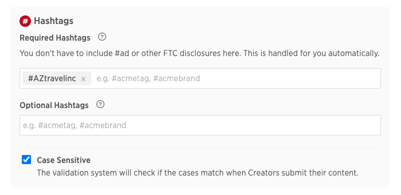 Once you have included all of the Elements you would like Creators to use for their posts, click Save Changes at the bottom right.