There may be times when a Creator has not fully submitted their Instagram Story Metrics into the system for your approval. If they have provided these metrics to you directly outside of the platform you will have the option to override and edit their submitted metrics. Please note that the creator must have first submitted their final screenshots in the platform before you are able to edit their metrics.
Once in your project, you will be taken to the outline tab. From here navigate to the manual verification tab.

On the manual verification tab, you will be able to view all of posts that need to be manually verified. They will be listed as submission error, verification error, or ready for verification. For this article, we will be focusing on the ready for verification. From the list provided, select the post that you would like to review by clicking on the creator name.

Now that you have selected the post you would like to verify you will be able to view the following:


Frame screenshots - Screenshots of the final upload and also the marketer-approved draft upload from the creator.
Frame insights - Analytics for the individual frame(s) uploaded by the creator. Creators are asked to manually provide this information.

You have the option to verify the submission or request a revision. Before verifying, please make sure that you have reviewed the metrics for each submission.

If the Creator has not provided all of their metrics in the system but has provided them to you off platform, you will be able to override and add their metrics at this point. These metrics will be used on your analytics tab for your project's reporting. To add their metrics, select Override Metrics next to the frame insights.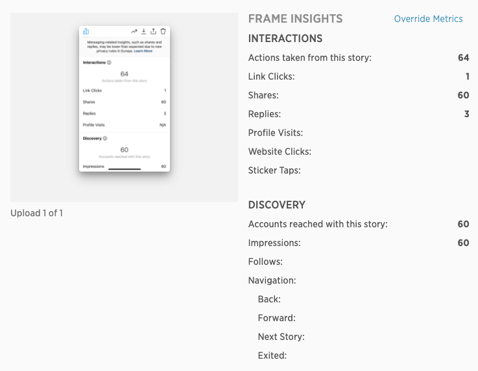 A flyout will appear where you can view the frame and metrics side by side. On the flyout select, Override Metrics once more.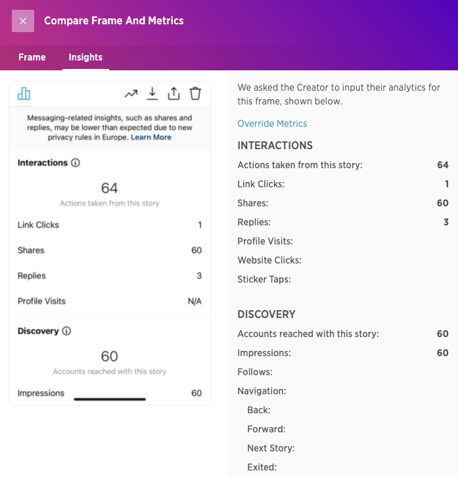 In the screenshot above you can see that the creator did not provide metrics for the Discovery portion of their analytics. From the flyout, you will be able to enter these additional metrics if they have been provided to you by the creator off platform. Enter the metrics in the boxes provided and select Save Changes.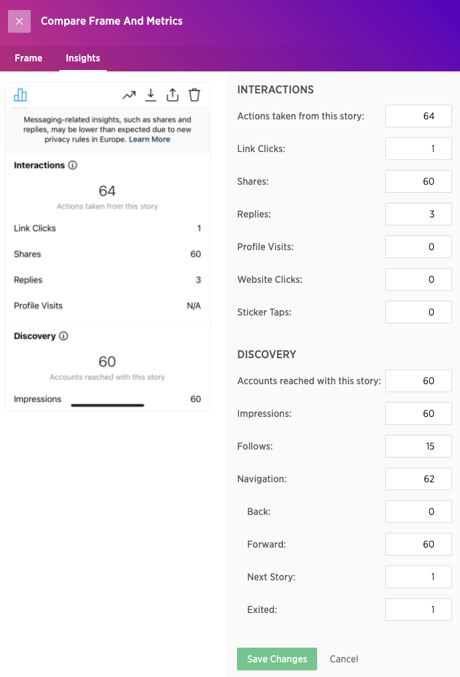 Once you have entered in all of the metrics, you will be able to verify the posts by selecting Verify Submission. Please note that once verified this action can not be undone.