After you have created an account, you may receive requests from marketers to join their network. In this article, we will discuss what it means to be part of a network, the different types of networks in the system, how to join a network, and how to switch between networks.
What does it mean to be part of a Network?
When you join a network in the system, you make it easy for marketers within that network to locate your account, and you will also make yourself available for open bidding projects or direct offers and within that particular network.
What are the different types of Networks in the system?
Marketers can choose what type of network they would like to be within the system. They can either be a public network or a private network. A public network means that they are willing to work with Influencers who may also be working within other networks. Alternatively, a private network means that marketer wishes to remain exclusive with who they work with and how they are seen in the system.
How do I join a Network?
You are not able to send network requests directly to marketers. If a marketer is interested in establishing a relationship with you, they will send you a request to join their network. Generally, marketers will only send network requests to Influencers they have already worked with previously.
Where do I find my current Networks and pending Network requests?
First, click the dropdown next to your avatar in the upper right corner of your account. Then click settings.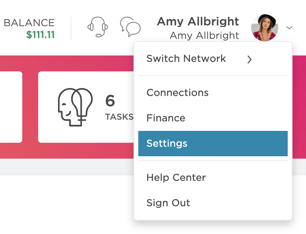 You will be directed to your profile settings page. From there, click account at the top left and then click networks on the left navigation bar.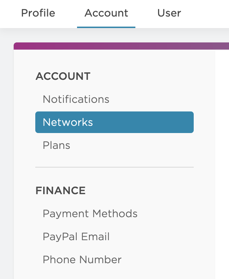 From this page, you will see a list of your current networks and any pending network requests, which you can respond to by clicking the green check box to accept, or you can click the red X box to decline.
How do I switch between different Networks?
If you have joined more than one network, you can switch between your networks in order to view opportunities or work on a project for a particular network. Switching networks in the system is easy! All you need to do is click the dropdown next to your avatar in the upper right corner of your account and then hover your cursor over switch network. From there you will see a list of your most recently accessed networks and you can select the one you wish to switch into.